TV Pilots 2019: All of the New Series in the Works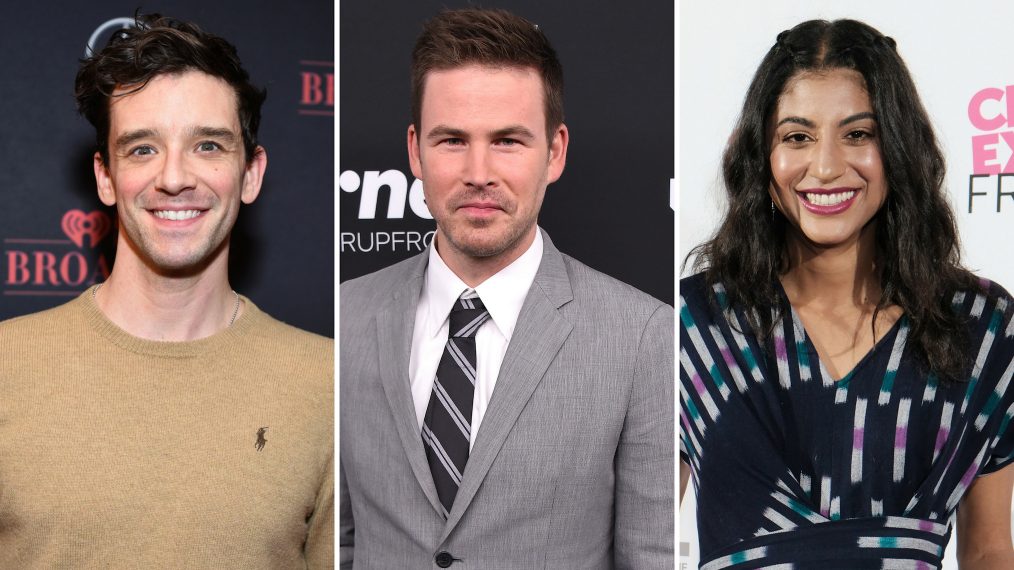 The past year of TV has been nothing short of stellar, so all of the new pilots in the works must bring their A-game. And from the looks of the upcoming projects, 2019 is going to be great.
New comedies from Amy Poehler, Kenya Barris, and Lake Bell are in early production stages. Not to mention another drama from the mind of Law & Order veteran Dick Wolf and an NYPD Blue sequel.
Plus, TV pros like Patricia Heaton, Sophia Bush, and Regina Hall all have big parts in future series.
Read on for a breakdown of all of the pilots and keep checking back as announcements come in. Your guide includes: W=writer, EP=executive producer, D=director.
ABC
Heart of Life (Drama)
Inspired by the John Mayer song of the same name
Cast: Harry Shum Jr., Katie Findlay, Dave Annable, Nick Thune
D: Anne Fletcher
W: Ben Queen
EPs: Ben Queen, John Mayer, Melvin Mar, Jake Kasdan, Paul Weitz
Synopsis: The series follows two sets of adult siblings that have discovered they're related, and the journey they'll take as they reassess the father they share and the exploration that happens in the process.
Woman Up (Comedy)
Cast: Leon Thomas
D: Zoe Lister-Jones
W: Zoe Lister-Jones
EPs: Zoe Lister-Jones, Liz Meriwether, Jason Wine, Jon Radler
Synopsis: Two former teen moms who have worked their asses off to see their daughters all the way through high school graduation. And now, at 35, they're ready to make up for the youth they never had.
Untitled legal and family drama
Cast: Nicholas Pinnock, Indira Varma, Mary Stuart Masterson, Dorian Missick
EPs: Hank Steinberg, Curtis "50 Cent" Jackson, Doug Robinson, George Tillman Jr. (direct), Isaac Wright Jr., Alison Greenspan
W: Hank Steinberg
Synopsis: A prisoner becomes a lawyer and begins to litigate cases for other inmates while fighting to overturn his own life sentence for a crime he didn't commit.
United We Fall (Comedy)
Cast: Jane Curtin, Jason Michael Snow, Will Sasso, Christina Vidal
EPs: Julius Sharpe (writer), Julia Gun, Seth Gordon
Synopsis: A multicultural family sitcom about two extended families with young children
Leslie Odom Pilot (Comedy)
Cast: Leslie Odom, Alexis Fields, Kelly Jenrette, Hailey Kilgore
EPs: Kerry Washington, Toure Roberts, Sarah-Jakes Roberts, Saladin Patterson, Leslie Odom, Pilar Savone
W: Saladin Patterson
Synopsis: Based on the life of pastors Toure Roberts and Sarah-Jakes Roberts, the show is about a married couple who run a modern ministry together and share an even more eclectic and chaotic home life with their combined four children.
Nana (Comedy)
Cast: Katey Sagal
W: Lon Zimmet
EPs: Ted Melfi, Kimberly Quinn, Lon Zimmet, Andrew Kosove, Broderick Johnson, Laura Lancaster
Synopsis: A comedy about a recently widowed dad who invites his mother-in-law (Sagal) into his home to help raise the two granddaughters she barely knows.
Hannah Simone Pilot (Comedy)
W/EPs: Hannah Simone, Matt Fusfeld, Alex Cuthbertson
Synopsis: A comedy inspired by Hannah's nontraditional Indian family.
Happy Accident (Comedy)
Cast: Vanessa Williams, Matt Walsh, JoAnna Garcia Swisher, Kether Donohue
W/EPs: Abraham Higginbotham, Jon Pollack
Synopsis: Two Pittsburgh families, a father (Walsh) with three adult daughters (Swisher as Eleanor), and a hotel lounge singer (Williams) with her med student son, are forced together after a decades-old secret is revealed.
Stumptown (Drama)
Inspired by the graphic novels
Cast: Adrian Martinez, Cobie Smulders, Camryn Manheim
W: Jason Richman
EPs: Ruben Fleischer, David Bernad, Jason Richman, Greg Rucka, Matthew Southworth, Justin Greenwood
Synopsis: Dex Parios, a strong, assertive, and unapologetically sharp-witted Army veteran working as a P.I. in Portland, OR. With a complicated personal history and only herself to rely on, she solves other people's messes with a blind eye toward her own.
Triangle (Drama)
Cast: Edwin Hodge, Mallory Jansen, Matt Passmore
W: Sonny Postiglione, Jon Harmon Feldman
EPs: Jon Harmon Feldman, Jennifer Gwartz, Elias Gertler
Synopsis: What if the Bermuda Triangle was not a watery grave in the middle of the ocean but a land lost in time that has trapped travelers over the course of human history?
The Baker And The Beauty (Romantic Comedy)
Cast: Victor Rasuk, Nathalie Kelley, Michelle Veintimilla
EPs: Dean Georgaris (W), David Frankel (D), Avi Nir, Alon Shtruzman, Peter Traugott, Rachel Kaplan
Synopsis: Based on the Israeli format, the show tells the story of the unlikely romance between a blue-collar baker and an international superstar. Theirs is a relationship that not only upends their lives, but the lives of their two very different families.
Until the Wedding (Romantic Drama)
Based on the Israeli series of the same name
Cast: Olivia Thrilby, Britt Lower, E.J. Bonilla, Michael Stahl-David, Trent Garrett, Liza Colon-Zayas, Juani Feliz, Vered Blonstein, Michael Benjamin Washington, Christian Coulson
W: Becky Mode
EPs: Becky Mode, Sarah Timberman, Carl Beverly, Alon Aranya
Synopsis: The story follows how one couple's decision to get married can can a ripple effect and make everyone in their lives question his/her own choices, romantic lives, realities.
The Hypnotist's Love Story (Drama)
Based off Liane Moriarty's (author of Big Little Lies) book of the same name
Cast: Heather Graham, Adan Canto, Jane Seymour
EPs: Heather Graham, Liane Moriarty, Katie Wech (writer), David Hoberman, Todd Lieberman, Laurie Zaks
Synopsis: Successful hypnotherapist Ellen is bad at relationships but thinks her current boyfriend could be the one until she learns that his ex-girlfriend (Graham) has been stalking him for years.
Bewitched (Comedy)
EP: Kenya Barris
Synopsis: A single camera, interracial blended family comedy based on the popular 1960s sitcom.
New York Undercover (Drama) *Pilot Ordered*
Cast: Malik Yoba, Luna Lauren Velez, MC Lyte, Otmara Marrero, Toby Sandeman, Anna Enger, Octavio Pizano
EPs: Dick Wolf, Ben Watkins
Synopsis: Reboot of the '90s cop drama
NYPD Blue Sequel (Drama)
Cast: Sofia Barclay, Fabien Frankel,
EPs: Matt Olmstead, Nick Wootton, Jesse Bochco
Synopsis: An updated version of the cop drama that will revolve around the son of Dennis Franz's Detective Andy Sipowicz character from the original series.
Work Wife (Comedy)
Writer: Michael Ian Black
EPs: Nina Wass, Andrea Shay, Ryan Seacrest, Kelly Ripa, Mark Consuelos
Synopsis: A half-hour multi-camera comedy inspired by Kelly Ripa and Ryan Seacrest's relationship on their morning show.
Thicker Than Water (Dramedy)
EPs: Tig Notaro (co-creator, star), Cara DiPaolo, Michael McDonald
Writers: Tig Notaro, Cara DiPaolo
Synopsis: A one-hour dramedy about a single mother who returns to her Tennessee hometown for her estranged father's funeral only to find out she has several half-siblings.
Happy Accident(Comedy)
EPs/W: Abraham Higginbotham, Jon Pollack
Synopsis: A single-camera family comedy about two Pittsburgh families — a father with three adult daughters, and a hotel lounge singer with her med student son — who are forced together after a decades-old secret is revealed.
NBC
Village Gazette (Comedy)
Cast: Amber Ruffin, Tommy Dewey
W: Amber Ruffin, Shelly Gossman
EPs: Amber Ruffin, Shelly Gossman, Seth Meyers, Mike Shoemaker, Lorne Michaels, Andrew Singer
Synopsis: Ruffin plays the fluff piece-loving editor of the BensonVillage Gazette, covering her idyllic hometown. But "when the newspaper owners hire a reporter who's looking to uncover a juicy story in Benson, he threatens to unravel the happy denial Amber has been living in."
Lincoln (Drama)
Formerly known as The Bone Collector and based on the internationally bestselling book series
Cast: Russel Hornsby, Michael Imperioli, Tate Ellington, Arielle Kebbel
EPs: VJ Boyd and Mark Bianculli (writers), Avi Nir, Alon Shtruzman, Peter Traugott, Rachel Kaplan
Synopsis: The story follows legendary forensic criminologist Lincoln Rhyme, who was seriously injured while hunting down a genius serial killer known as the Bone Collector. When the killer comes out of hiding, Rhyme is called back into action but this time partners with Amelia Sachs, a young cop who helps him piece together the clues.
Council of Dads (Drama)
Based on Bruce Feiler's bestselling memoir
Cast: Sarah Wayne, ichele Weaver, J. August Richards
EPs: Tony Phelan and Joan Rater (writers), Jerry Bruckheimer, Jonathan Littman, Kristie Anne Reed, P James Oh, Bruce Feiler
Synopsis: Based on Bruce Feiler's memoir of the same name, the drama revolves around a father whose life is turned upside down when he is diagnosed with a potentially terminal illness. Facing his morality, he and his wife assemble a group of friends to support his family and guide them through life's challenges.
Zoey's Extraordinary Playlist(Musical Dramedy)
Cast: Jane Levy, Carmen Cusack
EPs: Austin Winsberg (writer), Eric and Kim Tannenbaum, Paul Feig, Jessie Henderson
Synopsis: An awkward twentysomething year old girl who discovers she has the power to hear people's innermost thoughts as songs
Emergence (Drama)
Cast: Allison Tolman, Owain Yeoman, Donald Faison
EPs: Michele Fazekas, Tara Butters, Paul McGuigan, Robert Atwood
D: Paul McGuigan
Synopsis: A sheriff takes in a young child that she finds near the site of a mysterious accident who has no memory of what has happened. The investigation draws her into a conspiracy larger than she ever imagined, and the child's identity is at the center of it all.
Adversaries (Drama)
Cast: Archie Panjabi
EP: Martin Gero, Alex Berger
Writer: Alex Berger
Synopsis: An aspirational legal drama that argues the path to healing a polarized nation is through listening and empathy.
Prism (Drama)
Cast: Malin Akerman, Sarah Rue
EP: Daniel and Ben Barnz, Carol Mendelsohn, Julie Weitz
W/D: Daniel Barnz
Synopsis: A thought-provoking exploration of a murder trial in which every episode is told through the perspective of a different key person involved.
Bluff CityLaw (working title) (Drama)
Cast: Caitlin McGee, Jayne Atkinson
EP: Dean Georgaris, David Janollari, Michael Aguilar
W: Dean Georgaris
Synopsis: A character-driven legal drama that follows the lawyers of an elite Memphis law firm that specializes in the most controversial landmark civil rights cases.
Michael Schur/Kal Penn Project (Comedy)
EPs: Michael Schur, Kal Penn, Matt Murray, Dan Spilo, David Miner
W: Kal Penn, Matt Murray
Synopsis: A New York City Councilman Garrett Shah (Penn), finds his calling when faced with six recent immigrants in need of his help and in search of the American Dream.
Uninsured (Comedy)
Cast: Fran Drescher, Adam Pally, Abby Elliott
EPs: Dan Levy (writer), Doug Robinson, Alison Greenspan
Synopsis: Dave and Rebecca end up having to take care of Dave's parents who have mishandled their finances and need help to pay down a sizable debt.
Friends-in-Law (Comedy)
Cast: Michael Urie, Zach Cregger, Vella Lovell, Gil Ozeri
EPs: Brian Gallivan (writer), Tom Werner
Synopsis: Brian and Jake are two polar opposites who must quickly figure out how to coexist when their respective best friends decide to get married.
The Kenan Show (Comedy)
Cast: Kenan Thompson, Andy Garcia
EPs: Kenan Thompson, Lorne Michaels
W; Jackie Clarke
Synopsis: Thompson will play widowed dad who is "determined to be everything for his kids while begrudgingly letting his persistent father-in-law become more involved in their lives"
Like Magic (Comedy)
Cast: Jee Young Han, French Stewart, Mike Lane, Freddie Stroma, Hayley Magnus
EP: Matt Hubbard
W: Bridget Kyle and Vicky Luu
Synopsis: A workplace comedy that follows an optimistic young woman pursuing her dream to be a headlining magician in the eccentric and ego-driven world of the Magic Palace"
Secret Society (Comedy)
EPs: Emily Heller, Kay Cannon, Laverne McKinnon
W: Emily Heller
Synopsis: Beth, a struggling reporter who is tired of feeling invisible in her small town and recruits other women to help take over a dying branch of an all-male secret society.
Perfectly Harmony (Comedy)
Cast: Bradley Whitford, Anna Camp, Tymberlee Hill, Geno Segers, Rizwan Manji
Writer: Lesley Wake Webster
EPs: Lesley Wake Webster, Jason Winer, Bradley Whitford, Jon Radler
Synopsis: A single-camera comedy about a rural church choir that gets the gift it never thought it needed when a salty, Ivy League professor (Whitford) becomes its director.
Bright Futures (Comedy)
Cast: Emily Ratajkowski, Lilly Singh, Shameik Moore, Jimmy Tatro, Calum Worthy, Lisa Kudrow (narrator)
Writers/EPs: Hale Rothstein, Danny Segal, Isaac Schamis
EP: Kenya Barris
Synopsis: The show follows a group of friends, all twentysomethings, who stumbling through life as they try to figure out their paths to become successful adults.
Untitled Aseem Batra/Amy Poehler Project (Comedy)
W/EP: Aseem Batra
EP: Amy Poehler, Dave Becky
D/EP: Julie Anne Robinson
P: Julie Pancho
Synopsis: Follows one woman's unfiltered take on the side effects of trying to have it all.
CBS
Under the Bridge(Drama)
Cast: Jennifer Morrison, David Ajala, Justin Kirk
W: Rina Mimoun
Synopsis: Caitlin Lancaster (Morrison) is a cardiothoracic surgeon who steps up to the plate when scandal rocks the medical practice she runs with her husband and friends. She'll be forced out of a sabbatical when her husband is voted out of the medical practice.
The Unicorn(Comedy)
Cast:Walton Goggins, Rob Corddry, Michaela Watkins
D: John Hamburg
W/EPs: Bill Martin, Mike Schiff
Synopsis: This single-camera half-hour comedy follows Goggins' character — a widowed father who is struggling to raise two daughters. He'll also face the dating world where he learns he's quite popular but unequipped to deal with such attention.
Tommy(Drama)
Cast: Edie Falco
EPs:Paul Attanasio (writer)
D: Kate Dennis
Synopsis: Falco plays a former NYPD officer Abigail "Tommy" Thomas who was just hired as the first female Chief of Police for the LAPD.
Alive (Drama)
Cast: Ryan Phillippe, Katrina Law, Aaron Staton
EPs: Jason Tracey (writer), Rob Doherty
Synopsis: The story centers on a San Francisco homicide detective who's mysteriously brought back to life after being killed in the line of duty and now he's a totally different person
Republic Of Sarah (Drama)
Cast: Sarah Drew, Carlos Leal, Jonathan Slavin, Kirsten Nelson, James Lesure
W: Jeffrey Paul King
EPs: Marc Webb, Leo Pearlman, Jeff Grosvenor, Marc Webb, Jeffrey Paul King
Synopsis: The story centers on a small New Hampshire town that is thrust onto the world stage when the discovery of a valuable resource within its borders compels the residents to declare themselves an independent nation
Courthouse (Drama)
Cast: Lindsay Mendez, Ruthie Ann Miles, Simone Missick, Marg Helenberger, Jessica Camacho, Wilson Bethel, J. Alex Brinson
D: Mike Robin
EP: Greg Spottiswood (writer), Leonard Goldstein, Mike Robin
Synopsis: A legal drama that pulls back the curtain on the court system, focusing on a Los Angeles court house.
To Whom It May Concern (Comedy)
Cast: Michael Angarano, Briga Heelan
EP: Gail Berman, Mike Metz
W: Mike Metz
Synopsis: The series centers on Evan who sets out with his group of 20-something friends to accomplish a list of challenges he wrote for himself years ago in an effort to turn around his boring life.
The UsProject (Comedy)
Cast: Lauran Marano, Vanessa Marano, Parker Young,
EPs: Mike Royce (writer), Nick Stoller
Synopsis: The show is about story how an unlikely couple becomes an unlikely family and will be told through interviews and vignettes spanning 10 years.
Bob Hearts Abishola (Comedy)
Cast: Folake Olowofoyeku, Christine Ebersole, Maribeth Monroe, Shola Adewusi, Barry Shabaka Henley, Matt Jones
EPs: Chuck Lorre, Eddie Gorodetsky, Al Higgins, Gina Yashere (all writers)
Synopsis: After having a heart attack, Bob (Gardell) falls in love with his Nigerian nurse and sets his sights on getting her to give him a chance.
Carol's Second Act (Comedy) *Pilot Order*
Cast: Patricia Heaton, Bonnie Dennison, Ito Aghayere
EP: Emily Halpern , Sarah Haskins, Patricia Heaton, David Hunt, Rebecca Stay, Adam Griffin
Writers: Emily Halpern, Sarah Haskins
Synopsis: Meet Carol Chambers (played by Heaton) who, after raising her two children and retiring from teaching, embarks on a second act in life to become a doctor.
Halfway There (Comedy)
Cast: Iliza Shlesinger
Writers: Iliza Shlesinger (also creator), Sherry Bilsing-Graham, Ellen Plummer-Kreamer
EPs: Sherry Bilsing-Graham, Ellen Plummer-Kreamer, Kara Baker, David Martin
Synopsis: A multi-camera comedy about a a comic (Shlesinger) whose life is turned upside-down when her half-sister moves in with her.
Surveillance(Drama)
Cast: Sophia Bush, Dennis Haysbert, Catalina Sandino Moreno, Matthew Modine, Allen Leech, Raphael Acloque
EPs: Matt Reeves, David C. White (writer), Patricia Riggen (director)
Synopsis: A complex spy thriller centered on the head of communications for the NSA, Maddy (Bush), a charming operative who finds her loyalties torn between protecting the government's secrets and her own.
Evil (Drama)
Cast: Mike Colter, Aasif Mandvi, Katja Herbers, Michael Emerson
W/EPs: Robert King, Michelle King
EP: Liz Glotzer
Synopsis: About the battle between science and religion. A female clinical psychologist who is skeptical about religion, a priest-in-training, a blue-collar contractor investigate miracles, demonic possessions, and other impossible events
Our House(Comedy)
Cast: Malcolm Barrett, Katherine Heigl
D: James Burrows
W: Brendan O'Brien
EPs: Brendan O'Brien, Nick Stoller
Synopsis: The half-hour comedy centers around a commited mom and dad as they attempt to raise their kids with the love and attention the mom never got herself as a kid. Their parenting plans get difficult with her family living next door though.
The Emperor of Malibu (Comedy) *Pilot Ordered*
Cast: Ken Jeong, Deborah S. Craig
EPs: Kevin Kwan, Michelle Nader, Christina Lee, David Sangalli, Danielle Stokdyk
W: Kevin Kwan, David Sangalli
Synopsis: The son of a Chinese billionaire announces his engagement to an American woman, his outrageous family descends upon the couple to win their son back and test drive the American dream.
Fox
Untitled Drama
A one-hour drama based on the Endemol Shine Australia series Sisters
Cast: Emily Osment, Brittany Snow, Megalyn Echikunwoke, Mo McRae
EPs: Annie Weisman (writer), Jason Katims, Imogen Banks, Jeni Mulein, Sharon Levy
D: Leslye Headland
Synopsis: It centers on Julia Bechly, an only child who finds her life turned upside down when her father is forced to reveal that over the course of his pioneering career as a fertility doctor, he used his own sperm to conceive dozens of children.
Our House(Comedy)
EPs: Brendan O'Brien (writer) , Nick Stoller
Synopsis: The show centers on parents who are committed to raising their children with the love and support the mom never got as a kid but discover how difficult that is with her insane parents and siblings back in the picture.
neXT (Sci-fi thriller drama)
Cast: Jason Butler, John Slattery, Elizabeth Cappuccino
EPs: Manny Coto, John Requa, Glenn Ficarra, harlie Gogolak
D: John Requa, Glenn Ficarra
W: Manny Coto
Synopsis: Rogue AI has the ability to continuously improve itself and a brillant but paranoid former tech CEO joins the Homeland Cybersecurity Agent team to try and stop it.
Adam & Eve (Comedy)
Based on the French-Canadian format
Cast: Ryan Hansen, Odette Annable
EPs: Jon Beckerman, Claude Meunier, Luc Wiseman
W: Jon Beckerman
Synopsis: The comedy follows a couple through three different stages in life: youth, middle-aged with kids, and retirement.
Deputy (Drama)
EPs: David Ayer, Will Beall
W: David Ayer, Will Beall
Synopsis: The show folloes Deputy Bill Hollister, who's much more comfortable in the field than in a meeting. But when the LA County Sheriff drops dead, Bill becomes acting sheriff of Los Angeles County, in charge of 10,000 sworn deputies policing a modern Wild West.
Lovestruck
Based on the French series Quadras
Cast: Andie MacDowell, Kathleen Turner, Beth Riesgraf, Jeffery Self, Linda Park, Steve Kazee, Rachel Bilson
EPs: Tom Kapinos, Sanaa Hamri, Sharon Levy, Nicolas Coppermann, Francois-Xavier Demaison, Endemol Shine North America and 20th Century Fox TV
W: Tom Kapinos
Synopsis: The first season will take place over the course of single night at a wedding and things about the characters will be revealed about their present and pasts.
Flirty Dancing (Reality Series)
Based on the British series
EPs: Rob Wade, Deborah Sargeant, Tamsin Dodgson, Jilly Pearce
Synopsis: Two complete strangers will be taught one half of a dance routine and then will go on a date where they have to dance. Once the couples have completed their dance date, they will part still not yet having spoken a word to each other, but will hope that they have done enough to warrant a second date.
Richard Lovely (Comedy)
EP: Billy Finnegan (writer), Kat Coiro, Asif Ali, Nicole Richie
Synopsis: Richard Lovely is a best-selling children's book author who doesn't like children. But after some bad PR he had to foster a little boy named Georgie — with help from his fictional alter ego — and they change each other's lives.
Geniuses (Comedy)
EP: Lon Zimmet (writer)
Synopsis: Blue-collar parents who lives in South Jersey tare trying to provide and raise their four kids, three of whom are certified geniuses.
Daddy Issues(Comedy)
Cast: Erin Foster, Don Johnson, Janina Gavankar, Jane Leeves
EP: Liz Meriwether, Oly Obst, Josh Lieberman, Erin Foster (writer)
Synopsis: Loosely based on Erin Foster's life, Daddy Issues revolves around Andi (single, 30-something), who refuses to settle down, and her friendship with her playboy dad. Andi's world is turned upside down when she discovers her dad's fallen in love with her best friend.
Lil Kev(Animated Comedy)
EP: Kevin Hart
Voice actors: Kevin Hart, Wanda Sykes, Deon Cole, Gerald "Slink" Johnson, Keith Robinson
Writers: Michael Price, Matt Claybrooks
Synopsis: Based on Hart's childhood, the show follows a 12-year-old boy as he grows up in North Philadelphia with the help of "his strong, quick-tempered mother, drug-addicted father, pessimistic older brother, ex-con uncle and wise-ass talking dog."
Prodigal Son (Drama)
Cast: Tom Payne, Michael Sheen, Lou Diamond Phillips, Bellamy Young, Aurora Perrineau, Frank Harts
EPs: Greg Berlanti, Chris Fedak, Sam Sklaver
W: Chris Fedak, Sam Sklaver
Synopsis: Malcolm Bright is the son of a notorious serial killer called The Surgeon who has genius skills and understand how killers think. As a criminal psychologist uses his exptertise to help the NYPD solve crimes.
Filthy Rich(Drama)
Cast: Steve Harris, Melia Kreiling, Kim Cattrall, Gerald McRaney, Aubrey Dollar, Corey Cott, Benjamin Aguilar, Mark L. Young, David Denman, Olivia Macklin
EP: Tate Taylor (writer, director), John Norris, Brian Grazer, Francie Calfo
Synopsis: Southern Gothic dramedy which revolves around two strong, sharp women who will go to any length to protect their loved ones and get their due.
FX
Y: The Last Man (Drama)*Series Order*
Based on comic book series Y: The Last Man
Cast: Amber Tamblyn, Diane Lane, Barry Keoghan, Imogen Poots, Lashana Lynch, Juliana Canfield, Marin Ireland
EP/Showrunner: Aïda Mashaka Croal, Michael Green
EP: Nina Jacobson, Brad Simpson, Brian K. Vaughan, Melina Matsoukas (director)
Synopsis: Y traverses a post-apocalyptic world in which a cataclysmic event has decimated every male mammal save for one lone human. The new world order of women will explore gender, race, class and survival.
Gone Hollywood(Dramedy)
W/D: Ted Griffin
EP: Scott Rudin, Ted Griffin, Eli Bush, Garrett Basch
Synopsis: The 1980s-set series centers on a group of talent agents who defect from one agency only to create their own successful one. The show will mix fictional and real-life entertainment personalities within the story.
USA
Briarpatch(Drama)*Series Order*
Based on the novel by Ross Thomas
Cast: Rosario Dawson, Jay R. Ferguson, Edi Gathegi, Brian Geraghty
W: Andy Greenwald
EP: Andy Greenwald, Sam Esmail, Chad Hamilton, Rosario Dawson
Synopsis: Dawson will lead as Allegra "Pick" Dill, a tenacious and highly-skilled investigator working in Washington, DC for a young, ambitious Senator. When her ten-years-younger sister, a homicide detective, is killed by a car bomb, Allegra returns to her corrupt Texas hometown. What begins as a search for the murderer becomes a fraught and dangerous excavation of the past Allegra has long sought to bury. Dawson will also serve as producer.
Treadstone (Drama)
EP: Tim Kring, Ramin Bahrani, Ben Smith, Jeffrey Weiner, Justin Levy, Bradley Thomas
D: Ramin Bahrani
W: Tim Kring
Synopsis: Spinoff of the Jason Bourne movie series. The series explores the origin story and present-day actions of a CIA black ops program known as Treadstone, a covert operation that uses behavior modification protocol to turn its agents into nearly unstoppable superhuman assassins.
Dare Me (Drama)
Based on the novel by Megan Abbott
EP: Megan Abbott, Gina Fattore, Peter Berg, Michael Lombardo, Sarah Condon, Karen Rosenfelt
W: Megan Abbott, Gina Fattore
Synopsis: A look into volatile competitive high school cheerleading. The series explores female friendships, jealousy, loyalty and the dynamics of power in a small Midwestern town.
TNT
Beast Mode (Drama)
W: David Schneiderman
EP: David Schneiderman, Charles D. King, Kim Roth, Poppy Hanks, Ann Wolfe
Synopsis: Inspired by the life of legendary boxing trainer Ann Wolfe, the show tells the story of a feisty, brilliant-yet-damaged woman with a "kill or be killed" mentality. While these qualities make her an excellent trainer, they tend to cause problems in the rest of her life.
Constance (Drama)
Cast: Elisabeth Shue, Sharon Gless
EPs: Robert Downey Jr., Susan Downey, Amanda Burrell, Bill Dubuque, Tom Lesinski, Jenna Santoianni, Jesse Peretz, KC Perry
W: KC Perry
D: Jesse Peretz
Synopsis: It follows former beauty queen turned small town bureaucrat, Constance Young, whose life is thrown into turmoil after her husband's mysterious death. Realizing she and her family are on the verge of financial ruin, Constance turns to cooking the books at City Hall, while simultaneously trying to reinvent herself through the hyper-competitive world of direct-sales cosmetics.
TBS
Chad (Comedy)
Cast: Nasim Pedrad, Saba Homayoon, Paul Chahidi, Alexa Loo, Ella Mika
EPs: Nasim Pedrad, Hayes Davenport, Oly Obst, Rob Rosell
W: Nasim Pedrad
Synopsis: A single-camera comedy that follows a 14-year-old Persian boy (played by Nasim Pedrad) during high school as he desperately tries to fit in, cope with his mother's dating life, and reconcile his cultural identity.
Arthur's Law (Comedy)
Remake of the German comedy Arthurs Gesetz.
Cast: Jan Josef Liefers, Martina Gedeck, Nora Tschirner, Ronald Kukulies, Cristina do Rego Robert Gallinowski
D: Christian Zübert
W: Benjamin Gutsche, Ceylan Yildirim, Sebastian Bleyl
EP: Moritz von der Groeben, Nataly Kudiabor, Hannes Heyelmann, Anke Greifeneder
Synopsis: Arthur wants his obnoxious wife to die. With the money from the life insurance there's no obstacle for a restart with his beloved mistress but every problem solved by Arthur has a far worse and hilarious effect.
Raised by Wolves (Drama) *Straight-to-Series Order*
Cast: Travis Fimmel
D: Ridley Scott (first two episodes)
W: Aaron Guzikowski
EPs: Ridley Scott, Aaron Guzikowski (showrunner)
Synopsis: The series is about two androids — Father and Mother — who are raising children on a virign planey. As the burgeoning colony of humans threatens to be torn apart by religious differences, the androids learn that controlling the beliefs of humans is a treacherous and difficult task.
Showtime
Ball Street (Comedy)
Cast: Don Cheadle, Andrew Rannells, Regina Hall, Casey Wilson, Paul Scheer
EP/W: David Capse, Jordan Cahan
D/EP: Seth Rogen, Evan Goldberg
Synopsis: October 19, 1987 – aka Black Monday – saw the worst stock market crash in the history of Wall Street. No one knows who caused it — until now. A group of outsiders takes on the blue-blood, old-boys club of Wall Street and end up crashing the world's largest financial system, a Lamborghini limousine, Don Henley's birthday party and the glass ceiling.
HBO
Run(Romantic comedic thriller)
Cast: Merritt Wever, Domhnall Gleeson
EPs: Phoebe Waller-Bridge, Vicky Jones (writer), Emily Leo
Synopsis: Ruby (Wever), a woman living a humdrum existence who one day gets a text inviting her to fulfill a youthful pact, promising true love and self-reinvention, by stepping out of her life to take a journey with her oldest flame.
The Righteous Gemstones(Comedy)
Cast: Danny McBride, John Goodman, Edi Patterson, Adam Devine
EP: Jody Hill, David Gordon Green, Danny McBride
W/D: Danny McBride
Synopsis: The Gemstone are a televangelist family who have "a long tradition of deviance, greed, and charitable work, all in the name of the Lord Jesus Christ."
Untitled Game of Thrones Prequel (Drama)
Cast: Naomi Watts, Josh Whitehouse
Ws: George R.R. Martin, Jane Goldman,
EPs: George R.R. Martin, Jane Goldman, James Farrel, Jim Danger Gray, Vince Gerardis and Daniel Zelman. Chris Symes
Synopsis: The series chronicles the world's descent from the golden Age of Heroes into its darkest hour. And only one thing is for sure: from the horrifying secrets of Westeros' history to the true origin of the white walkers, the mysteries of the East to the Starks of legend — it's not the story we think we know.
Avenue 5 (Comedy)
Cast: Josh Gad, Hugh Laurie, Zach Woods, Rebecca Front and Suzy Nakamura
W: Armando Iannucci
EPs: Armando Iannucci
Synopsis: Set primarily in space, Avenue 5 sees Gad play a man named Herman Judd who is the billionaire face behind Avenue 5 and the Judd brand. Included in that brand are hotels, fitness clubs, and tourism, which reflects Judd's life of luxury. Apart from science — which he leaves to scientists he employs — Judd believes he's good at everything.
Netflix
Selena: La Serie (Drama)
EPs: Selena's sister Suzette Quintanilla, Selena's father, Abraham Quintanilla Jr.
Writer: Moisés Zamora
Synopsis: A scripted series about the young singer's rise to stardom and tragic murder.
Shadow and Bone (Drama)
Based on Leigh Bardugo's bestselling Shadow and Bone and Six of Crows Grishaverse fantasy novels
EP: Eric Heisserer (W/showrunner), Shawn Levy, Leigh Bardugo, Pouya Shahbazian, Dan Levine, Dan Cohen and Josh Barry
Synopsis: An eight-episode series about will combine the plots and characters Shadow and Bone and Six of Crows. The world has been divided by "a massive barrier of perpetual darkness" where creatures hunt and eat humans. But a young female solider uncovers a power that could save her world but she's struggling to control her abilities. And new dangers are now after her.
Amazon
Half-Empty (Comedy)
Cast: Cazzie David
EP: Cazzie David, Elisa Kalani, Sue Naegle and Ali Krug will
D: Augustine Frizzell
W: Cazzie David, Elisa Kalani
Synopsis: A cynical college student who has an overactive imagination which gets her into trouble.
Freeform
The Girlfriend (Rom-Com)
W: Jamie Lee
D: James Griffiths
EPs: Jamie Lee, James Griffiths
Synopsis: Crystal Chase's — a 30-something living in Bakersfield, California — life is turned upside down when she finally meets "the one" but then finds out he's the number one suspect is his wife's mysterious disappearance ala Scott Petterson.
Unrelated (Comedy)
Cast: Jordin Sparks, Gigi Zumbado, Jessika Van, Davi Santos, Matt Shively, Brooks Brantly
Created by: Ranada Shepard, Casey Johnson, David Windsor
EP:Kenya Barris
D: Michael McDonald
Synopsis: The series follows Becca (Sparks) who has just discovered her half-sister Jesi (Sumbado) through an online genetic test. The show will follow their journey from strangers to sisters.
The CW
Jane the Novela (Comedy)
Cast: Marcia Cross, Jacqueline Grace Lopez
W: Valentina Garza
D: Brad Silberg
EP: Jennie Snyder Urman, Gina Rodriguez, Ben Silverman, Brad Silberg
Synopsis: This anthology spinoff series is presented in a similar fashion to Jane the Virgin's telenovela-inspired tone. Instead of following the same characters, it will feature stories by Virgin's Jane Villanueva (Rodriguez) who will narrate the soapy series.
Glamorous (Drama)
Cast: Brooke Shields, Jade Payton, Peyton List, Susan Santiago, Chester Lockhart, Brady Dalton Richards, Ben Pierce
D: Eva Longoria
EPs: Jordon Nardino (writer), Damon Wayans Jr., Eva Longoria and Kameron Tarlow
Synopsis: The drama centers around a gender non-conforming recent high school graduate who lands the gig of a lifetime interning at a cosmetics company whose products they panned on YouTube.
Batwoman (Superhero drama)
Cast: Ruby Rose, Meagan Tandy, Camrus Johnson, Nicole Kang, Dougray Scott
W: Caroline Dries
D: David Nutter
EPs: WBtv, Greg Berlanti
Synopsis: Follows Kate Kane (Rose) who soars onto the streets of Gotham as Batwoman, an out lesbian and highly trained street fighter primed to snuff out the failing city's criminal resurgence.
Untitled Nancy Drew Project (Drama)
Cast: Kennedy McMann, Leah Lewis, Freddie Prinze Jr.
EPs: Josh Schwartz and Stephanie Savage, Melinda Hsu Taylor, Noga Landau (writer),
D: Larry Teng
Synopsis: The pilot centers on 18-year-old Nancy Drew (McMann) and is set in the summer after her high school graduation. She thought she'd be leaving her hometown for college, but when a family tragedy holds her back another year, she finds herself embroiled in a ghostly murder investigation
The Lost Boys(Horror Dramedy)
Cast: Tyler Posey, Medalion Rahimi, Dakota Shapiro and Kiele Sanchez, Rio Mangini, Del Zamora
D: Catherine Hardwicke
W: Heather Mitchell
EPs: Heather Mitchell, Rob Thomas, Dan Etheridge, Mike Karz, and Bill Bindley
Synopsis: Based on the 1987 film with the same name, the series will follow Michael who moves to Santa Clara with his mother following the death of his father. There, Michael will connect with Stella who happens to have a vampire boyfriend, David.
Katy Keene (Musical Dramedy)
Cast: Lucy Hale, Ashleigh Murray
D: Maggie Kiley
W: Roberto Aguirre-Sacasa, Michael Grassi
EPs: Roberto Aguirre-Sacasa, Greg Berlanti, Sarah Schechter, Maggie Kiley
Synopsis: The series follows four Archie Comics characters — including titular Katy Keene (Hale) — as they chase their dreams in New York City. The musical dramedy will see these twenty-somethings come into their own.
SYFY
Cipher (AI Sci-fi Drama)
Cast: Adrien Grenier, Sydney Morton, Gabriel Bateman and Kyla-Drew Simmons
W: Allison Miller
EPs: Allison Miller, David Gordon Green, Danny McBride, Jody Hill, and Brandon James
Synopsis: When 13-year-old Asa's (Bateman) mother dies, the boy's life takes another turn after computer technology is implanted into his brain. The event puts Asa and his father John (Grenier) at the center of a new war over artificial intelligence.
Pilots Without a Network
Sometimes I Lie (Drama)
Based on the book by Alice Feeney
Cast: Sarah Michelle Gellar
W: Robin Swicord
EP: Ellen DeGeneres, Sarah Michelle Gellar, Jeff Kleeman
Synopsis: A woman, Amber Reynolds, wakes up in a semi-coma and thinks her husband in responsible for it. It takes place over three different time periods — Amber in the coma, Amber a week before the coma, and Amber's childhood.