'Extreme Cake Makers' Phil & Christine Jensen Recall Baking for Prince Charles & Camilla
There's No place like home — even if, as a member of the British royal family, you happen to have five of them. Husband-and-wife bakers Phil and Christine Jensen, proprietors of the high-end Peboryon bakery in the Cornish city of Penzance, counted on that sentimental adage for their latest challenge on Extreme Cake Makers, the tasty import about bakers across the pond whose often gravity-defying creations really, well, take the cake.
In preparation for the annual royal visit from Prince Charles and Camilla to Cornwall — the lush setting will be familiar to fans of Poldark — a local member of Parliament asked the Jensens to make two cakes as a proper welcome.
See Also
It's such a relief to see encouraging faces around the famous tent every season.
For Camilla, the couple landed on a four-tier lemon sponge cake using the colors the Duchess wore on her wedding day. For the prince, the pair were even more ambitious, forging an edible reconstruction of Gloucestershire's famed royal residence Highgrove House.
"I could hardly breathe!" Christine recalls of her stress levels before the tasting. "I was so anxious and excited. The pressure was very high." Because accuracy was key in re-creating Highgrove, the couple spent hours on each painstaking detail ("We were up very late putting the windows in," Phil says), but ultimately all that work paid off. "It was built properly to scale," Phil, a former architect, notes. "This was my first time working [a cake shaped like] a building. I loved doing it. I went nuts."
See Also
Chef Lidia Bastianich previews her PBS special that will take viewers across the country.
Did Charles and Camilla enjoy their home sweet home? Spoiler alert: "He saw the cake from across the room and immediately recognized his house, which you could see made him happy," Christine recalls. But the proof is in the eating. "Generally, the royals don't eat in public," she says, "but Prince Charles dug into it. It was lovely."
Extreme Cake Makers, Friday, December 28, 11/10c, Cooking Channel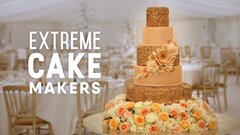 Powered by