Shea Whigham on 'Homecoming's Golden Globe Nom, Working With Sam Esmail & More Carrasco in Season 2
Amazon's new buzzed-about series Homecoming takes viewers on a dark, winding mystery in its 10-episode first season, and cast member Shea Whigham was along for the ride.
You probably recognize Whigham from his roles on a slew of hit series and critically-acclaimed films, including his recent projects like Waco, Vice Principals, Fargo, First Man, Bad Times at the El Royale. Since getting his first big TV break on HBO's Boardwalk Empire, Whigham has worked with the best and brightest of Hollywood, from Martin Scorsese to La La Land's young director Damien Chazelle.
See Also
Alarming revelations and deceptions create a mood of escalating panic and creeping paranoia in this Amazon Prime Video series.
In Homecoming, the actor gives a riveting performance as Department of Defense investigator Tom Carrasco, who is determined to uncover the truth behind the shady operation known as "Homecoming."
Below, Whigham discusses the show's recent Golden Globe nomination, working with showrunner Sam Esmail (Mr. Robot), the inspiration behind his character, and more.
Congratulations on the show's Golden Globe nomination! How does it feel to be part of this special project?
Shea Whigham: It feels great. I'm not gonna to lie, you go into these things and you don't think of that while you're in preparation and in filming. You don't look for results, but it's nice when something that was really difficult works out.
Is there any chance we could see Tom Carrasco return in Season 2? Things were left pretty open-ended at the end of the first season.
I don't know. A couple of people have asked me that and I'm not being facetious, I really don't know what the future holds for Carrasco. This thing was so special and in my mind it was going to be a one-off, but I really fell in love with [the character] and the story itself and everyone involved – Julia [Roberts] and Sam [Esmail]. So, whatever happens happens.
In the final moments of the season, Walter (Stephan James) shifts Heidi's (Julia Roberts) fork in the diner as he used to do with her pen on the desk at Homecoming. Do you think he remembers his time there?
[Laughs] You know, I didn't initially, to be honest. And the more I've thought about it… Sam did so many things with this, it's incredible. I started to doubt myself like, 'Wait a minute, wait a minute.' I've doubted myself since initially viewing it, so I'm not sure. I don't know, but I'm leaning towards maybe Walter… maybe there's something to it.
It's definitely hard to determine
It's a credit to Stephan [James] in that he held it really tight — he didn't give anything away. It allows for us an interpretation for that, so it's a credit to him.
See Also
Julia Roberts plays a former veterans counselor who can't remember details of a malevolent program.
You've also been very busy with TV projects like Waco, True Detective, Fargo, Narcos, and of course, Boardwalk Empire. What sets Homecoming apart from those?
I've been incredibly lucky as you say all of these series. I've been under people like Tim Van Patten – the director from Boardwalk — Cary Fukunaga for Season 1 of True Detective, Noah (Hawley) for Fargo, and Sam is right there with all of them – these are the best that television has to offer.
What was really difficult was Carrasco for me I believe, he's the furthest away from me, from Shea. It was incredibly difficult to find him. I knew I had a way in, I told Sam when he came to me. [Laughs] But then I started doubting myself about halfway through. I ended up, luckily, finding him, but it was one of the tougher characters that I've taken on and one of the most rewarding.
What was the collaboration process like with Sam?
Sam loves actors. In looking to try and find Carrasco, we looked at a hundred pairs of glasses. The details… he loves all of that. He's like a lot of my great directors. When I was working on Boardwalk Empire, if I hit Tim Van Patten at 3 in the morning with, 'I had an idea on Eli, what about this,' at 3:05 he'd hit me, 'I'm on it.' And this thing with Sam, when we go into the basement four flights down, and I'm looking for the box, we'd come up with the lighting, how I'd shake my hand so the lights would come on or the glasses we found – you know, the attention to detail, he loves that.
Speaking of Boardwalk, how was your approach to Tom Carrasco different than Eli Thompson, despite their shared backgrounds in law enforcement?
Yeah, I mean it's funny. I think one of the threads they both share, and I'm not sure if I've consciously thought about this, I always felt like when I approached Eli that Nucky (played by Steve Buscemi) never hurt me, I was always the little brother, I was never quite gonna get to Nucky's status. And the same with Tom Carrasco, I wasn't sure my boss is hearing me, I'm not sure why.
Eli's such an emotional… he's an emotional cat. He wears it right on his sleeve and is incapable of saying what he's thinking. I think Carrasco, on the other hand, is very internal, and he's just on the edges. So they're very different guys but I think they both are not quite sure that they're being heard.
You've been cast in the upcoming Amazon anthology Modern Love, is there anything you can tease about the project?
Without giving away too much, 'what is love,' to me, that's why I initially got interested in it. Also, to work with Julia Garner (Maniac, Ozark). The beautiful, messy, ugly, heartbreaking thing that is love, and the lengths that we go to and how we hold onto it when we find it. Also, to work with Emmy Rossum (Shameless), that was another thing, because she's Sam [Esmail]'s wife, that really was appealing to me. It's an interesting exploration, we've all had it, we've all felt the highs — there's nothing like it when you're in love.
We know you're a pro in drama, but you're great at comedy too. Do you have any plans to take on more roles in that genre in the future?
I think I'm always looking for humor, whether it's Eli or whether it's Joel Theriot in True Detective Season 1. I'm always looking for those opposites, where that comedy can come out of drama.
Any other shows that are on your list to watch right now?
There's nothing besides Homecoming! [Laughs] I'm just kidding. You know, I've been in [the upcoming movie] Joker land for so long I've not been watching. My next show, I think, is The End of the F***ing World. Yeah, my kids are telling me, 'Dad, you have to watch this, this is unbelievable.' So, that's my next series.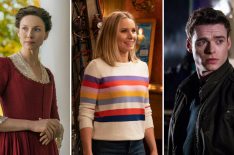 See Also
'Outlander,' 'The Good Place,' 'Bodyguard' and more were among the welcome TV surprises.
You've worked with so many people in the industry. Anyone you're still dying to collaborate with?
Yeah, I'd love to work with the Coen brothers, I'd love to work with P.T. Anderson — that's just off the top of my head. I'd also love to work with Kathryn Bigelow – love her stuff. I've been really lucky with directors.
Homecoming, Streaming now, Amazon Prime Video
Powered by