Andy Samberg's Jake Lives out a 'Die Hard' Fantasy in 'Brooklyn Nine-Nine' Season 6 Trailers (VIDEO)
The wait is almost over for Brooklyn Nine-Nine fanatics to enjoy the sitcom's new season on its new network; Season 6 of the acclaimed police-themed comedy will debut on NBC in just over a month, on Thursday, Jan. 10.
To give a little taste of what to expect, NBC will be unveiling three new Nine-Nine trailers on Sunday, Dec. 9. One of them will premiere during halftime of the Sunday Night Football game between the Los Angeles Rams and Chicago Bears.
"Prepare for helicopters, explosions and gratuitous slow-motion," an NBC press email alerted us about the trailers, when they delivered two of the three for our perusal (which you can watch below). "The trailers fulfill Det. Jake Peralta's [Andy Samberg] ultimate action-movie dreams."
That description is certainly accurate for the first trailer here, appropriately dubbed "The Brooklyn Nine-Nine All-Action Trailer," in which Jake acts out his best Die Hard/John McClane fantasy as he pitches the team a concept for a Nine-Nine recruitment video.
Jake's over-the-top scenario comes complete with cool catchphrase ("Suck it, gravity!") and his team members marveling over his larger-than-life, cinematic heroics ("His muscles are bigger than mine!" exclaims Terry Crews' Sgt. Terry Jeffords at one point).
Of course, like any good big-budget action flick, the "All-Action Trailer" was also filmed with an alternate ending, seen here:
We're not sure yet what the third trailer looks like, or which of these will be airing during SNF, but B99 fans will undoubtedly have no trouble finding them.
Those passionate fans rallied behind Brooklyn Nine-Nine after it was canceled by Fox earlier this year. NBC answered the call, picking up the show for another season in just over a day.
Brooklyn Nine-Nine, Season 6 Premiere, Thursday, January 10, 9/8c, NBC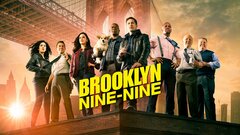 Powered by