'Lethal Weapon' Sneak Peek: Deck the Halls With… A Puzzle of Body Parts (VIDEO)
It may be the season for mistletoe, decorating Christmas trees and having some spiked egg nog, but on the fall finale of Fox's Lethal Weapon, crime does not take a holiday.
In the episode "Bad Santas," some, well, Bad Santas (aka diamond thieves) are keeping Cole (Seann William Scott) and Murtaugh (Damon Wayans) busy while Cole also gets to spend his first Christmas with daughter Maya (Shay Rudolph).
Meanwhile, Bailey (Michelle Mitchenor) is trying to figure out her new partner, Gutierrez (Paola Lázaro), who seems to be making a nice connection with medical examiner Scorsese (Johnathan Fernandez).
How good of a connection is Scorsese making with Gutierrez? Watch this exclusive clip to see how the newbie to the department has more in common when it comes to being festive at the holidays.
Lethal Weapon, Tuesdays, 9/8c, Fox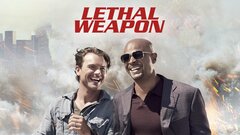 Powered by