'Outlander': Jamie and Claire Reunite With a Familiar Face in 'Savages' (RECAP)
Savages
Season 4 • Episode 5
[Warning: The below contains MAJOR spoilers for Season 4, Episode 5 of Outlander, "Savages."]
Things are in full swing for the Frasers in America as Claire (Caitriona Balfe) and Jamie (Sam Heughan) settle into their lives in the new world. Domestic life on Fraser's Ridge is peaceful for the most part, but things are threatened in the Outlander's latest episode, "Savages."
Below, we're breaking down some of the installment's biggest moments and exploring whether or not last week's Brianna (Sophie Skelton) in Scotland cliffhanger, which was discovered by Roger (Richard Rankin), is answered.
When "Savages" opens, Claire is sitting by the creek with the Cherokee healer (played by Tantoo Cardinal). The two bond over their knowledge about medicines and Claire opens up about being a mother, revealing that she has a daughter but she lives far away. However, the healer has a peculiar response, saying in her native language that "she is here," and which Claire takes as a figure of speech rather than a fact.
Later on, fans are offered a glimpse into Jamie and Claire's life at the cabin. Before Jamie and Ian (John Bell) set off to recruit men to help settle his land from Governor Tryon (Tim Downie), the husband and wife have an interesting exchange about their daughter.
Jamie asks Claire if Brianna has a birthmark on her neck, describing it in great detail. When Claire confirms his description, he claims to have had a dream about it. Could this be a sign of something to come? Before too much can be made of it, the men head off to town, leaving Claire alone.
She stays busy in their absence, tending to Petronella Mueller (Marie Hacke) and her family as the woman gives birth to a new baby girl. Showing off her skills, Claire wins over the affections of the family –who then name the baby after her – until Petronella's father Gerhard (Urs Rechn) notices natives taking water from the creek in front of their home. Claire tries to keep the peace, but when one of the natives blesses the water, Gerhard believes it to be a curse.
Claire is approached by the pastor who reveals Petronella and her baby died of measles, and the man tells her that Gerhard blames Claire and the natives for the loss. This puts her on guard as she sits ready with her gun, waiting for Gerhard to show up at Fraser's Ridge.
Finally, Gerhard does show up, feigning concern for Claire and claiming to be surprised she's well considering the illness that took his family. He reveals that he's taken care of "them" for Claire when he hands over a cloth wrapped around what Claire believes to be Petronella's daughter's doll. Much to Claire's disgust, she opens to the cloth and finds the Cherokee healer's scalp, which Gerhard justifies, saying the "witch" would've just cursed settlers.
Eventually, Gerhard leaves, only to return to a burning home and wife as the natives engulf his land with flaming arrows. All the while, Claire waits patiently for Jamie and Ian's return after we see that the two don't have much luck recruiting farmers and other prospective settlers.
When they're ready to head out of town, Ian notices that the horse's bit is broken, so he heads to the blacksmith's where he's ripped off. Jamie learns about this and returns with his nephew to confront the man who upsold the boy. The tense moment turns emotional when Jamie finds himself face-to-face with his godfather, Murtagh (Duncan Lacroix).
Now gray-haired, the man welcomes Jamie into a big hug, much to Ian's confusion as he's never met the man who viewers last saw in prison with Jamie in Season 3. Sitting down to catch up at the local tavern, Jamie asks Murtagh to make something for his wife, which prompts Murtagh to ask about Claire, as he knows of her time-traveling. Happily, Jamie reveals that she returned and provides some information about his daughter, Brianna.
Jamie tries to convince Murtagh to get in on his land deal, but he won't and asks Jamie to join him at a meeting he's attending that night. There, Ian and Jamie learn that Murtagh is part of an anti-tax group, which directly opposes Jamie's land deal. Still, the men agree to not get in each other's way, though it's unclear whether Murtagh will ever visit Fraser's Ridge. But sometime after Jamie's return, Murtagh follows meeting Claire outside.
By now, it's clear that Brianna isn't arriving at Fraser's Ridge anytime soon, but she does venture into the past. Mixed into the episode, Roger is seen arriving at Inverness behind Brianna. He tries retracing her steps, only to find a letter she instructed to open a year from now. When the episode reaches its end, Brianna's letter is revealed at the Craigh Na Dun stones, where she addresses Roger, telling him she had to save her parents after learning that they'll perish in a fire a few years from their current timeline.
It's true, she's traveling to the past. But what will her journey yield? Fans will have to wait to find out, but until then, here are a few things to look back on from "Savages."
When Murtagh appears on Fraser's Ridge, he approaches Claire by whistling "Boogie Woogie Bugle Boy" – a song they used in a search to find Jamie during Season 1. It's a callback that any avid viewer would appreciate.
Brianna's heading towards her parents, but will her arrival prove positive or negative for her parents, who are already weary of the New World?
Murtagh hasn't been around much in recent years, and his current role is unprecedented as the book kills him off in Battle of Culloden, so it will be exciting to see where the writers take his story.
Outlander, Sundays, 8/7c, Starz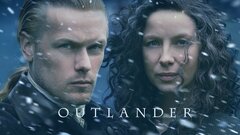 Powered by