'Outlander' Stars Reveal How That Bear Twist Came About
[Warning: This post contains spoilers from Sunday's Outlander episode, "Common Ground."]
Outlander's Jamie Fraser (Sam Heughan) has many names, and now he can add another to the list: Bear Killer.
But unlike the book series by Diana Gabaldon—the fourth season is based off the fourth book titled Drums of Autumn—Jamie didn't actually kill a real bear. It was a Native American man wearing the skin and claws of a bear.
See Also
'Common Ground' continued Jamie and Claire's American tale, while also showing the fallout from Brianna and Roger's North Carolina jaunt.
The bear-man was terrorizing Fraser's Ridge where he, wife Claire (Caitriona Balfe), and nephew, Young Ian (John Bell), built their log cabin. He stole their food, injured one of their horses, and almost killed their friend John Quincy Myers (Kyle Rees).
Jamie went out in search for the beast, not knowing it was a Cherokee, and stabbed him in a kill-or-be-killed fight in the woods. When Jamie realized the bear was a man, he carried the body to the Cherokee camp and there they revealed the man's origins.
He was a Cherokee who raped a woman and was banished from the tribe. After living in the woods for so long, he began to lose his mind and believe he was bear. He terrorized anyone who he came in contact with and made the woods a very dangerous place.
See Also
Jamie's godfather might have made his way over to the American colonies.
The Cherokee were relieved that the bear-man was dead and thanked Jamie, which created a peace between the indigenous people and the Frasers.
Heughan told The Hollywood Reporter he loved the change from the book: "I think it's an interesting twist that actually begins the story with the Native Americans. It's actually wonderful, this honor or understanding between Jamie and the Cherokee. He gets a name, he's now Bear Killer, and their relationship becomes amicable, which is pretty big moving forward."
"We have a few moments like this this season where we are going to surprise the fans, and I think that's good. Otherwise they know what's coming, and it's great to have a few little Easter eggs in there, some things to surprise even the most loyal book readers with," he added.
The reason it wasn't a real bear? "I think they tried to find a bear in Scotland and then they couldn't," Balfe joked.
Outlander, Sundays, 8/7c, Starz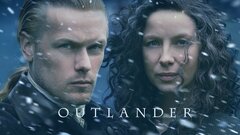 Powered by