Roush Review: 'Marvelous Mrs. Maisel' Returns for Perfectly Delightful Second Season
There's always music and magic in the air whenever Miriam "Midge" Maisel is in the room — whether delivering off-color zingers on the stand-up stage, bantering with friends and family or zipping her chair between stations at a busy department-store switchboard with the panache of Gene Kelly.
Amy Sherman-Palladino writes bawdy and brilliantly funny dialogue that sings, making The Marvelous Mrs. Maisel my favorite nonmusical musical. In its perfectly delightful second season, which pays life-changing visits to romantic Paris and the Catskills during a balmy summer, this award-winning triumph is the binge that refreshes. Even Scrooge would succumb to its charms.
See Also
Plus, the actor teases what's next in Season 2 and gushes about working with Rachel Brosnahan and new cast member Zachary Levi.
Not that Midge (the brash and dazzling Rachel Brosnahan) has an easy road to success and happiness in 1959 New York, which is still very much a man's world. Her act often feels like a form of public therapy, like when she takes down a gaggle of chauvinistic male comics at a club that keeps pushing her set back later into the night. "Comedy is fueled by oppression, by the lack of power, by sadness and disappointment, by abandonment and humiliation," she tells her rapt audience. "Now who the hell does that describe more than women?" Bravo, Mrs. M.
Her champions are few but include lovably gruff manager Susie (the hilarious Alex Borstein) and the infamous comedy rule-breaker Lenny Bruce (a wondrously cool Luke Kirby), who likens her bravado to "Norman Mailer in a cocktail dress." No one else seems to know quite what to make of her, least of all her parents, Abe and Rose Weissman (Tony Shalhoub and Marin Hinkle), whose own relationship deepens after the impromptu Paris sojourn.
For Joel (a poignant Michael Zegen), the husband who left Midge with two children, regret barely begins to describe the loss he feels as he tries to put his life back together without the late bloomer he failed to appreciate.
Though she's still trying to do the improbable, chasing fame while remaining anonymous enough to shield her ambition from her family, it's only a matter of time before Midge's talent will become obvious to all. We happy viewers already know the truth: She's a star waiting to be born. The Marvelous Mrs. Maisel is already a success. Midge's time is coming.
The Marvelous Mrs. Maisel, Season 2 Premiere, Wednesday, December 5, Amazon Prime Video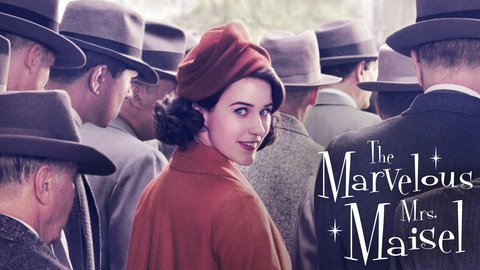 Powered by