'Marvelous Mrs. Maisel' Star Michael Zegen on If Joel Can Be Redeemed in Season 2
Amazon's The Marvelous Mrs. Maisel is back for a second season, premiering Wednesday, December 5 and so is her cheating husband Joel (Michael Zegen).
In Season 1, the multi-award winning nostalgic — and very funny — show followed the titular Midge Maisel (the Emmy-winning Rachel Brosnahan) as she turned her spurned wife reality into the start of a standup comedy career in 1959.
See Also
This award-winning triumph is the binge that refreshes. Even Scrooge would succumb to its charms.
Ahead of the premiere, TV Insider spoke with Zegen, whose resume includes Rescue Me, The Walking Dead, Girls and Boardwalk Empire, to find out what's next for the character silly enough to dump the effervescent Midge, now that he's living to regret it.
Where is Joel, emotionally and career-wise, when the show returns?
Michael Zegen: He doesn't have a career. He quit the plastics company, he is not a stand-up comic, so I think that his main focus in Season 2 is finding his path. He starts working at his father's factory, and emotionally, I think that's also unclear. He had just seen Midge perform standup, and that was soul-crushing for him because she's good and he's not. That was his dream, so I don't think he knows quite how to feel about that and about her.
What are his regrets?
Cheating on her, which set her on this path of comedy. She wouldn't be where she right now if he hadn't done what he did.
He's sort of the accidental catalyst for something that will make her happy.
Yes, but it's making him miserable. The more famous she becomes, the sadder he gets.
Plus, he's living with his parents in his childhood room! That's some kind of hell. What's his plan B ?
That's really what Season 2 is all about for Joel, finding that thing that's going to make him happy and fulfilled. As for his parents, they're nuts! I was kind of channeling that relationship from Seinfeld [with George Constanza and his parents]. Also, with my own family, I understand where he's coming from.
Producer Amy Sherman-Palladino told me that she saw this season as a possibility for redemption for Joel — whom she doesn't believe is a cad, by the way. Do you agree?
He wasn't necessarily a cad in Season 1. He made a mistake. I think in Season 2 he perhaps is a little more a cad. As the show progresses, you will see what I'm talking about.
See Also
Rachel Brosnahan, Jason Bateman, and more.
Will he work to win Midge back?
I don't know if he necessarily wants to win her back. He's still very insecure with her sort of taking over his dream and succeeding at it. So, at the moment, I don't think he will, because even though this whole thing was his fault, he hasn't forgiven her for this, yet.
Has he forgiven himself?
Oh, he definitely hasn't forgiven himself.
You have a moving scene with Zachary Levi's new doctor character several episodes in. I won't give anything away, but what did you think of it?
I thought it was wonderful. It's very noir-ish, you know? And I loved working with Zach — first of all, he's a talented actor, and second of all, he's huge! I'm really not that short, but he's like 6-foot-5, so I felt like a dwarf standing next to him.
What are some other favorite scenes this season?
The scenes set in the Catskills. We had such a fun time, and the scripts for those episodes were fantastic. And any time I get to do a scene with Rachel. We have such a great cast that it's a winning situation with anyone, but Midge and Joel have so much history with one another, and so much depth and love with them, that I love any time I get to do a scene with her. It's actually hard not to have chemistry with her. She's so talented and so great.
Then there's a scene in Episode 2, when Kevin Pollak — who plays Joel's father — and I are walking through the factory, and it's one extended scene with eight pages of dialogue and no cuts. Some people might be scared by it, but I'm not!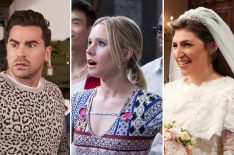 See Also
Plus, 'The Big Bang Theory' and others make the list.
In such a talented cast, who's the most naturally funny on set?
Alex Borstein is probably the funniest; she's hilarious. Her humor is so sarcastic and sardonic. And whenever I do a scene with Tony Shaloub, I can't keep a straight face. We constantly break up. Kevin Pollak is another funny one; he's a stand-up comedian, and he keeps everyone on their toes, and is always cracking jokes. Amy and [her co-producer and husband] Dan are hilarious, too! They're such a great power couple. It's just a win-win situation with anyone.
Before this show, what was your favorite TV project?
I loved working on pretty much everything, but Boardwalk Empire was really fun because I got to play [the mobster] Bugsy Siegel, a character that's so iconic, and at the same time I got to make him my own. They gave me a lot of responsibility, and hopefully I did him justice.
The Marvelous Mrs. Maisel, Season 2 Premiere, Wednesday, December 5, Amazon Prime Video