'Outcast' Brings the Devil to SXSW
Austin's South by Southwest festival is in for a fresh new hell this year when Cinemax stages the world premiere of Outcast, the latest creepshow from The Walking Dead creator Robert Kirkman. Based on Kirkman's most recent comic-book series, the much-anticipated exorcism drama's pilot will screen on March 14th at 1:15/12:15c, followed by a panel moderated by Silicon Valley's Kumail Nanjiani.
Outcast (both the series and comics) is set in the small town of Rome, West Virginia, where Kyle Barnes (Patrick Fugit, Almost Famous' now-grown leading man) has returned to become a recluse after a lifetime plagued by demonic experiences. "It's not that Kyle himself has become possessed, but there is something about him that causes these demonic entities to be drawn to the people he cares about," explains showrunner Chris Black (Mad Men), a seasoned foe of evil, having been a consulting producer on Reaper. "So it's almost like he's a magnet for evil and he doesn't know why."
Well, he's about to find out. In the nerve-shredding pilot written by Kirkman, Kyle teams with a man of the cloth named Reverend Anderson (Philip Glenister of Amazon's Mad Dogs) and discovers that his so-called curse—which has already destroyed his family—may actually be the devious work of an external force. Armed with that info, Black reveals the haunted loner will set out to put an end to the terror once and for all. "He's like, 'OK maybe I can get my life back and maybe I can defeat this thing [since] it doesn't live within me…maybe I can go out and defeat it.'"
But that could mean more trouble than anyone imagined, especially since the forces of evil have no problem wreaking havoc in even the most innocent among us. "Unlike the world of The Walking Dead, everything in Rome appears perfectly normal, almost idyllic," says Black. "Where the horror and the menace lies is behind those drawn curtains, you know? It could be any bedroom, on any sunny street in any small town in America. Rather than having the threat out and in your face the way it is in The Walking Dead, here it's what lurks behind closed doors."
The SXSW panel is slated to feature Kirkman, Black, star Fugit and Adam Wingard, who directed the pilot. No official premiere date has been announced yet, but expect Outcast to debut sometime this summer. So that should give you enough time to stock up on holy water.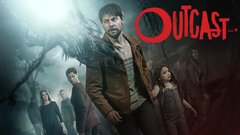 Outcast
where to stream
Powered by