Why the Third 'X-Files' Episode Will Make You Laugh—Like Mulder Debating…Himself?! (VIDEO)
The X-Files is taking a turn to the comedic with its third episode, "Mulder & Scully Meet the Were-monster."
In the Darin Morgan-penned (and directed) hour, Mulder (David Duchovny) and Scully (Gillian Anderson) are called to investigate an unusual attack. The only eyewitnesses aren't incredibly reliable, so Mulder sets out to catch his own proof…with the help of some very 2016 technology.
"He's using [his phone] very badly," Duchovny laughs. "The joke in that episode is he doesn't get it right: all he gets is out of focus, crappy [photos], because he's trying to use a new app."
RELATED: Here's Why The X-Files Episodes Are Airing Out of Order
Though the episode itself feels like pure X-Files, Morgan shares that he'd been kicking around the plot in his head (sans X-Files angle) for a while. "The basic story idea is one I've had for a really long time, but I haven't been able to do it elsewhere," he explains. "So when this [revival] came up, I went, oh, this is the time to do it. I had to readjust everything, giving Mulder and Scully parts; I hadn't conceived of the original idea as an X-Files. So I had to rejigger that. So when the opportunity came…I leapt at the chance."
As Mulder and Scully investigate the case, the twists and turns of the hour lead them to two new faces: Guy (Rhys Darby), a cellphone salesman, and Pasha (Kumail Nanjiani), an animal control officer.
"This particular episode, which is a monster-of-the-week episode, I was captivated by the twists and turns of the script, and how it was done and how it was laid out," Darby says. "It was a little daunting, the amount of story I had to tell. I thought it was a step up for me to carry a lot of the episode; I was nervous. The one thing I did have in my bag was the comedy; I knew I could make it funny…It's pretty much dreamy, the whole thing. It was one hell of a ride."
"It is such a great episode," Nanjiani adds. "It is such an exciting, interesting, unexpected take on the were-monster mythology. It's really funny, it's really sad, it's really, really sweet. It's moving."
RELATED: How to Catch Up on 9 Seasons of X-Files in 4 Days
Darby is best known for his comedy—he starred in Flight of the Conchords, and has racked up guest spots on CBS' Life in Pieces and ABC's Modern Family, to name a few—and he had nothing but praise for Morgan's comedic sensibilities. "It was really wonderful," Darby says. "He was so good with me. He has an amazing attention to detail. I do as well, with my comedy; I like to get things perfect. His writing was perfect—I couldn't deviate off the tracks. Normally, as a comic actor, I like to improvise and try and make things funnier than they are on paper. But there was no improvement I could make. I just wanted to do a great job for him. He would come in and make sure my tone was right. That was really the only direction he had in running these lines. I think we're a good team."
Darby started catching up on The X-Files (and now deems it his "favorite show") because of his role in the revival, but Nanjiani was already a superfan before the acting process. (He hosts The X-Files Files podcast.)
"Terror, fear, terror," Nanjiani recalls of his first days on The X-Files set. "My first day was late night in the Vancouver forest. I got there, and it was lit like The X-Files, and I was like, 'Oh my gosh, I'm on The X-Files.'"
Morgan—who appeared on Nanjiani's podcast—says that he or his brother, Glen (who wrote Episode 4 of the revival and who was also on The X-Files Files), planned to put Nanjiani in an episode when they were crafting their hours. "I realized there was a part I was writing that he could do; he'd be good for it," Morgan recalls. "So I called to make sure he was available, because he's really, really busy. And he was excited to do it. The kind of funny thing is, I wrote a specific joke line, just for him. We shot it, it was great, but we had to cut it out because the episode was too long. So the specific joke for him ended up on the cutting room floor. But it was great having him on the set because he was so enthusiastic and so excited when all the rest of us were tired and worn out."
RELATED: How a Horrifying X-Files Episode Inspired the Latest Bones Serial Killer
Darby appreciated Nanjiani"s enthusiasm as well. "I know Kumail, and he is probably the biggest X-Files fan on the planet," Darby says. "He was like Charlie in the [Wonka] chocolate factory being there. It felt like we both won [golden] tickets…he was awesome, and we were like a couple of kids in the candy store. We were able to talk about things that were happening behind the scenes that we couldn't reveal to anyone. It was like a little secret geeky gang."
Still craving more The X-Files? Check out this exclusive scene from "Mulder & Scully Meet the Were-monster" to see Mulder have a very unique debate.
The X-Files airs Mondays at 8/7c on Fox.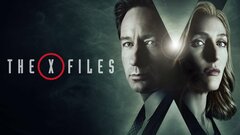 Powered by