Where Is Murtagh? An 'Outlander' Investigation
Where in the world is the beloved bearded Scot?
Murtagh Fitzgibbons Fraser (Duncan Lacroix) mysteriously disappeared from Outlander in the middle of the third season, and we're still not over it. The absence of Jamie's (Sam Heughan) godfather and partner in crime has left a hole in our hearts which has yet to be filled by another supporting character as stubborn and fiercely loyal as good ol' Murtagh.
See Also
Plus, are supernatural powers afoot?
As book fans know, the TV series differs greatly when it comes to the treatment of Murtagh. In the books by Diana Gabaldon, Murtagh sadly dies in the Battle of Culloden. But in Season 3 of the show, he survives and is then imprisoned at Ardsmuir for several years after the rebellion ends.
Jamie reunites with Murtagh at the prison but he's in bad shape. The tough Highland warrior is terribly sick and can hardly breathe while living in squalor at the prison. Jamie negotiates for a doctor to come in treat the men and Murtagh becomes stronger.
When the news comes that the prison is closing, the fan-favorite character is supposedly shipped off to the American colonies with many of the other prisoners to finish out their sentences. Meanwhile, Jamie is moved to the Helwater estate to begin his servitude as a groom.
The reason the producers kept Murtagh around? Showrunner Ronald D. Moore told Mashable, "Murtagh's development in the series is different than the books basically from the beginning. We made him much more of a key player in the story, much closer to Jamie, and then he got in on [Claire's] secret in Paris. He became part of the family in a different way than in the books. And I just wasn't ready to let him go in Culloden. He is going to survive and we will catch up with him later, we will just keep him going."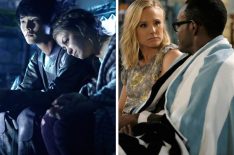 See Also
A look at TV couples who have stayed together even when their worlds were falling apart.
Fast forward to Season 4 — Jamie and Claire are in the American colonies, having settled in North Carolina. So it can safely be assumed that the threesome will cross paths again.
Gabaldon revealed some key details during a Reddit online panel. She wrote: "Yes, we all love Murtagh (and Duncan is wonderful as him)… but making a change like that will of necessity change other things. Obviously, you don't just reveal that he's alive in episode 303 and then never refer to him again. Plainly he's coming back into the story; we (well, you all) just don't know how or when."
Outlander, Sundays, 8/7c, Starz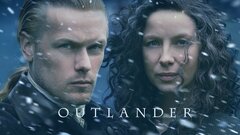 Powered by