Why 'Dynasty' Is More Than a Guilty Pleasure
With some reboots, you just have to walk away.
Fans who bailed on Dynasty, though, should come running back. After a spotty start last fall, the soapy update — which swapped the '80s and Denver oil for today's Atlanta and the energy biz — slowly hit its stride.
See Also
Most of the costumes are off the rack!
Now in Season 2, this addictive indulgence is successfully honoring the ABC classic without relying on carbon copies of its characters. Grant Show's Blake Carrington is shadier (and sexier!) than John Forsythe's stoic patriarch, Nicollette Sheridan is serving a saucy, low-rent spin on Joan Collins's bitch royale Alexis, and Elizabeth Gillies has elevated Pamela Sue Martin's eternal victim Fallon into a smart ballbuster.
Even this Sammy Jo (Rafael de la Fuente) is a twist on the Heather Locklear man-eater: He's a good guy devoted to Steven Carrington (still gay, but finally interesting, thanks to cheeky James Mackay).
On Friday night's episode, as a romance heats up, there's high-fashion insanity and backstabbing too. Some things never go out of style.
Dynasty, Fridays, 8/7c, The CW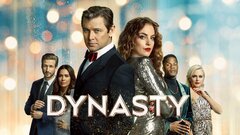 Powered by