Meet the Crew: 'Dynasty's Costume Designer Meredith Markworth-Pollack
Like a bitch-slap across the face, the fashions of The CW's Dynasty reboot are jaw-dropping and entirely unexpected. Here, costume designer Meredith-Pollack explains how she outfits the new breed of power mongers while honoring what she calls the "iconic" and "epic" looks of the original.
The first Dynasty was costume designer Nolan Miller's fashion masterpiece. What did you think when you were hired to reimagine his work?
The first thing I thought was: shoulder pads! [Laughs] Then it was, "Oh my God, how am I going to do this justice? How could I pay homage to Nolan Miller?" I wasn't nervous; I was excited…like, I have to get it right.
See Also
A former Knots Landing sexpot filling Joan Collins' role? Sign. Us. Up.
Has filming in Atlanta influenced the costumes?
We shot through the summer and it was so hot. I had a room full of faux furs—we don't use real fur—just waiting to be put on all the girls. We had to wait until literally two weeks ago!
Sam Adegoke's Jeff Colby may be the most stylish man on TV right now.
We wanted to play up that he's young and has money, so he's bound to be a little flashy. For him, it's a lot of Gucci.
Is Fallon (Elizabeth Gillies) the most fun to dress?
Fallon and Cristal (Nathalie Kelley) are equally fun. And they're very different. I always say Fallon is dressing for herself. She's more structured in her look, with bold colors, gem tones and loud patterns. Cristal is soft, feminine. I feel like we really [take a page] from Krystle in the original, with that beautiful palette Nolan Miller created for Linda Evans…champagnes and creams and blush.
Where are you finding these looks?
I've made three custom pieces so far [including Fallon's '80s party nod to Joan Collins] and I also work with designers and showrooms. But most of it is off the rack. I find some online and shopping in Atlanta…wherever we can find it, we'll take it! [Laughs]
Dynasty, Wednesdays, 9/8c, The CW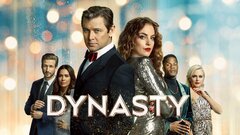 Powered by