Will the BBC/Netflix Hit 'Bodyguard' Get a Second Season?
Bodyguard is the BBC's latest breakout hit series (with more than 10.4 million viewers) that migrated its way over to Netflix.
The limited season is only six episodes, but series star Richard Madden revealed to Mail Online that he could be returning as David Budd in the near future.
"I'm having a conversation with [creator Jed Mercurio] in about ten days or something, when I'm back in the country, and we are just going to chat through some ideas," he said. "We never intended to make another one, and I don't know, I'm excited to see what he's got, especially because David [Budd] had quite a busy couple of months. So what do we do with him next?"
The political thriller follows Budd, an Afghanistan war veteran dealing with PTSD and family issues, as he's assigned to protect Home Secretary Julia Montague (Keeley Hawes). As the story unfolds, you're not sure if Budd despises or admires Montague's policies and choices as the line between truth and coverup becomes increasingly blurred.
When asked what Madden thinks Budd could be up to after surviving not one but two almost-terrorist attacks, he said, "[David] probably needs a break. But him [being] on the beach with a piña colada, I don't think people are going to watch that as much. Less anxiety though. I would like less anxiety."
There are also rumors the Scottish actor is in the running to become the next James Bond after Daniel Craig steps down from the role.
Bodyguard, Streaming now, Netflix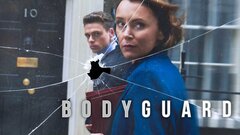 Powered by