Roush Review: 'Bodyguard' Is a Nail-Biting Political Thriller
The first 20 minutes, involving a terrorist threat aboard a crowded train, are exhaustingly riveting. Then the show actually starts, but rarely does the tension ease up.
One of British TV's biggest hits in years, Jed Mercurio's six-part Bodyguard is a crackerjack thriller with a visceral emotional undercurrent reminiscent of early Homeland.
Carrie Mathison has nothing on Sgt. David Budd (Game of Thrones' taut Richard Madden), a soldier with undiagnosed PTSD from a tour in Afghanistan who finds himself assigned to controversial, hawkish Home Secretary Julia Montague (Keeley Hawes, icy yet vulnerable).
Her unpopular policies make her a target for attack, and his damaged psyche sets him up as a fall guy for any mayhem that follows her. (There is plenty.) Budd is duty-bound to protect the politician, but it's hard to tell whether he'd rather throttle her or bed her.
The story takes wild, violent leaps amid myriad conspiracies, leading to a crazy, nail-biting climax that is both preposterous and wholly satisfying. Some binges feel like a slog. Bodyguard is more of a race, well worth the run.
Bodyguard, Series Premiere, Wednesday, Oct. 24, Netflix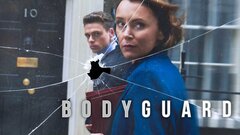 Powered by