'The Little Drummer Girl' Cast Says You'll Be Wondering 'What's Imagined & What's Real'
When John le Carré's 10th novel was released in 1983, William F. Buckley reviewed it for The New York Times, wisely pointing out, "The Little Drummer Girl is about spies as Madame Bovary is about adultery or Crime and Punishment is about crime."
That holds true for AMC's new adaptation, a limited series that moves deftly between genres as it unfolds in six riveting parts. Depending on the episode, you might find yourself immersed in romance, espionage or a heartbreaking coming-of-age tale — occasionally all at the same time. "What's unique is that it is a thriller, but hinged off a love story," executive producer Stephen Cornwell says. "As those things become interwoven along the journey, it raises life's big questions: Who am I? What defines me? What's imagined and what's real?"
See Also
The new AMC series surprises and shocks with every new twist.
It's only fitting, then, to center this saga around a character who's destined to be divided between multiple realities. Twentysomething Charlie (Florence Pugh) is a working stage actress in London during the late 1970s. She's talented, idealistic, alluring and a tad overconfident — qualities that have landed her on the radar of a covert Israeli intelligence group.
Veteran spymaster Kurtz (Michael Shannon) and his colleague Becker (Alexander Skarsgård), a former operative who's recently, and reluctantly, come back into the fold, want to recruit her as a double agent. Her ultimate goal: infiltrate a Palestinian terrorist cell run by an elusive extremist named Khalil (Charif Ghattas). "What they're asking her to do is very dangerous," Skarsgård says. "Kurtz is more focused on the mission and less worried about collateral damage than Becker is, which creates friction."
Of course, the first step is getting Charlie on board, and so begin the mind games. She and her acting troupe head off for a holiday in Greece, where she can't help but notice a tall, mysterious gentleman — Becker, using the alias Peter Richthoven — staying at their seaside hotel. Charlie takes the bait, and the two strike up a playful, if slightly needling, flirtation.
"We had this amazing connection straightaway," says Pugh of Skarsgård. "The whole point of these characters is that she's supposed to find him deeply annoying as well as attractive. Becker is perfect at everything, and that is [Alex]."
See Also
Rachel Brosnahan, Jason Bateman, and more.
You can hardly fault Charlie for being smitten, especially after Becker whisks her away for an after-hours date at the Acropolis. No surprise, that grand gesture (the scene was filmed on location at the ancient landmark) has a mesmerizing effect. "We're the first production that has ever been allowed to shoot at the Acropolis at night," Cornwell says. "It was completely empty, we were under a full moon, and the wonder of that experience shows in Charlie and captures how it felt to be there."
Unfortunately, she won't get to bask in that glow for long. Becker's reveal that he's not a suitor but a would-be handler prompts some understandable trust issues. Still, Charlie can't help being tempted by Becker and Kurtz's bid to cast her as the star player in their crusade. Says Pugh, "Charlie's one of those people who is desperate for intrigue."
Sure enough, she's in, and from here on, the stakes keep going up. In order to get her ready for the role of a lifetime, Charlie and Becker assume elaborate alter egos, posing as a pair of lovers giddily making their way across Europe. (Cue more glamorous international locales, such as Prague, with accompanying '70s-era ensembles.)
Turns out, pretending to be a couple with crackling chemistry isn't much of a stretch. "Charlie obviously knows this is fiction and that Becker is just taking her through the steps," Skarsgård says. "But within that fake connection, there are moments where she can tell it's actually real…or is it?"
Oh, what we wouldn't give for an easy answer! But viewers will be hard-pressed to separate right from wrong and good guys from bad, let alone determine where Becker's allegiance lies. Or Charlie's, for that matter — particularly when she's finally out in the field, face-to-face with the targets she's attempting to bring down.
"In order to penetrate this world, she has to engage with it, and that's enormously challenging," Cornwell says. "We get to share in the complexity of what it means to be a double agent — to be both loyal and to betray. There will be a huge toll."
The Little Drummer Girl, Monday–Wednesday, November 19–21, 9/8c, AMC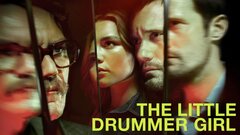 Powered by