'FBI's Dick Wolf on Casting Missy Peregrym & Zeeko Zaki and What Makes This Series Different
The scene filming on a crisp November day in New York City has all the elements of a Dick Wolf procedural. Emergency vehicles crowd the street, while police officers keep oglers away from yellow Crime Scene tape. A young man and woman stride up the steps of New York's City College, which is standing in for a fictional school where a controversial figure was burned to death. The duo: special agents Omar Adom Zidan (Zeeko Zaki), known as OA, and Maggie Bell (Missy Peregrym), the heroes of producer Wolf's new CBS drama, FBI.
The look of determination they each have hints at the partners' confidence they'll eventually find their perp. "If they're knocking on your door, they've got you," Zaki says ahead of filming this upcoming episode. "There's no running."
See Also
The actor, who plays FBI special agent Omar Adom
Viewers aren't going anywhere, either. Since its September 25 premiere, FBI has won its Tuesday 9pm timeslot with more than 9 million people tuning in, making it the season's No. 1 new show. No surprise, as it's like comfort food to fans of Wolf's other shows, such as NBC's Law & Order: Special Victims Unit and the Chicago franchise. While some things are different — FBI deals with federal-level cases like terrorism — familiar elements remain. Namely, bad guys are brought to justice, and Wolf treats the agents with the same reverence and respect he extends to first responders.
"I grew up in an FBI-friendly environment. My favorite uncle was an FBI agent," says Wolf, who also produced Inside the FBI: New York, a 2017 docuseries for USA. With this drama, he has a simple goal: to show "the boots on the ground, highlighting the work that is done on a day-to-day basis to keep us all safe."
And though the real FBI has come under partisan fire recently, "this show is not political," Wolf continues. Indeed, the bad guys aren't inside the bureau. In the pilot, the team brought down a white supremacist bomber and MS-13 gang members.
Upcoming episodes mix topical issues and bread-and-butter FBI concerns, like environmental violence and white-collar crime. The December 4 installment hinges on the murder of a U.S. marshal and a witness he was protecting. Maggie and OA must track down the person who leaked info that led to the hit.
The show's strong cast also includes Sela Ward as Special Agent in Charge Dana Mosier, Law & Order veteran Jeremy Sisto as her deputy, Jubal Valentine, and newcomer Ebonee Noel as whip-smart analyst Kristen Chazal. But Maggie, a recently widowed workaholic from a law-enforcement family, and OA, a Muslim former military officer new to the FBI, are the central characters. So finding the right actors to portray them was a top priority.
"I cast Missy [because], when she did an SVU episode, she had a two-and-a-half-minute scene with [star] Mariska Hargitay that was incredibly good," says Wolf. "If you can go toe-to-toe with Mariska, I'm interested." (The 2017 episode, "Net Worth," featured Peregrym as an investment banker who accused a client of rape.)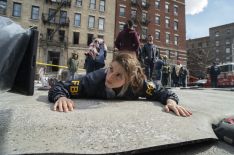 See Also
Plus, why the new show is Dick Wolf's biggest project.
As for Zaki, "he owned it in the auditions," Wolf recalls. So much so that the role, originally written as a Latino character, was retooled for him. "I was the only [Arab actor] at the audition. They switched up the script and took a chance on me," reveals Zaki, who's Egyptian-American, like OA. The casting reflects the real-life diversity in the bureau. "There are Muslim FBI agents who speak Arabic," notes Wolf. "It's terrific to have Zeeko as a role model for inclusiveness."
While this is Zaki's first leading role — he's had small parts on 24: Legacy and NCIS: Los Angeles — Peregrym is used to the spotlight. She spent six seasons on ABC's 2010–15 drama Rookie Blue as cop Andy McNally. "I was so in love with Andy that I didn't ever want to play anyone else in law enforcement," Peregrym says. "Then I found FBI. Weirdly, this is like Andy got a promotion, because Maggie was a cop for six years before becoming a federal agent."
This is an abbreviated version of TV Guide Magazine's cover story. For more from Missy Peregrym, Zeeko Zaki, and the action still to come on FBI, pick up the latest issue, on newsstands Thursday, November 22.
FBI, Tuesdays, 9/8c, CBS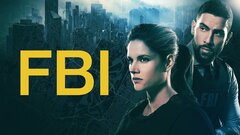 FBI
where to stream
Powered by