'The X-Files' Episode 5: Just How Real Was Mulder's Magical 'Trip'?
Spoiler alert! Do not read further if you haven't watched the latest X-Files episode, "Babylon."
Agent Einstein (Lauren Ambrose) survived her first go-round on The X-Files unscathed…well, mostly.
Einstein initially rejected Mulder's (David Duchovny) plan to have her administer drugs (or, um, "magic mushrooms" in pill form) to him, so he could mentally connect with a suspected terrorist who was a coma patient in a Texan hospital. But then she found out her partner, Miller (Robbie Amell), was secretly working with Scully (Gillian Anderson) to find their own way of communication. Feeling angry, Einstein gave Mulder the pills, and after taking a dose, he promptly vanished from Einstein's care.
RELATED: Why Lauren Ambrose's Agent Einstein Is 'Scully on Steroids'
Mulder then went on a psychedelic trip that took him from line-dancing at cowboy bars to rocking some bling to being surrounded by dancing girls, with Skinner (Mitch Pileggi) and the deceased Lone Gunmen (Bruce Harwood's Byers, Tom Braidwood's Frohike and Dean Haglund's Langly) making surprise appearances. Mulder also found himself on an alien experimentation table with Einstein in dominatrix gear standing over him, and then finally on a boat with Cigarette Smoking Man (William B. Davis) taunting him. It was also on the boat, the last stop of his journey, that Mulder came face to face with a Middle Eastern woman cradling the injured terrorist suspect, similar to the iconic image of Mary cradling Christ, with the man murmuring words in Arabic.
Having finally connected with the comatose man, Mulder woke up in the hospital to hear Einstein inform him that she fed him a placebo and that his trip was a result of the power of suggestion. But was Einstein telling the truth about the placebo?
"I think that's very purposely left ambiguous," Ambrose says. But the actress also adds, "I think my personal opinion is, it was actually a placebo."
Although Einstein saw Mulder's methods cracked the case—he was able to recall the Arabic that Miller then translated as a motel name hiding the remaining members of a terrorist cell—it was unlikely that the scientist would suddenly see the merit in changing her opinion. "People don't all of a sudden shift and change the moment they're encouraged to," Ambrose says. For Einstein, "it's strange and confusing to be in that world, to have to think that way, to have this character who is firm in her beliefs, but [who] gets a needle poked into all of them."
Ambrose also had some fun of her own while filming her dominatrix portion of Mulder's trip. "There was so much talk and worry about the costume, what I would wear and everything," she says. "It was the last scene on Friday night, and it was one of those scenes where the whole crew had to work efficiently and amazingly." Speaking about what she wore, Ambrose adds, "The wardrobe, it was all very specific because it was hitting a mark and the light would go off, and then it was over in two seconds. It was very funny and surreal and bizarre. Then I jumped in a car, went to the airport, [still] peeling my false eyelashes off."
This episode won't be the last time viewers see Agents Einstein and Miller. Even though Einstein insisted that she wouldn't assistant in another X-Files case again, her resolve won't last for long. The duo will appear again in the finale, "My Struggle II," when a medical crisis quickly escalates. "She's still a doctor looking to make sense of [things]," Ambrose teases. "Even in the finale, which is an inexplicable giant catastrophe that's affecting the whole world, she's still mining for truth, sense, logic and concrete answers. That's just who she is. But of course, in this world, all of the training and the logic is [murky]."
VIDEO: Agents Einstein and Miller Debate Mulder and Scully's Legacy
Also in the finale, Scully and Einstein will get more time together, after spending much of "Babylon" apart. "We go on our journey together, connect a little more in the final episode," Ambrose shares. "I, of course, really enjoyed that, because it was lovely to work with Gillian. She's a beautiful actress and a beautiful person. We bonded in the abandoned mental institution we were filming in together. [Scully and Einstein are] very much two doctors working hard to come up with fast solutions."
Assuming her character survives the finale, Ambrose would be open to returning for more X-Files episodes. Says the actress, "There is nothing I would like more."
The X-Files airs Mondays at 8/7c on Fox.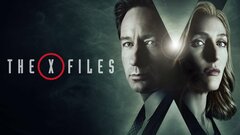 Powered by