Nathan Fillion's Best Guest Spots: 'American Housewife,' 'Modern Family' & More
Sometimes, great actors make awful guest stars (Brad Pitt on Friends). Other times, awful actors make great guest stars (Jean-Claude Van Damme on Friends). Castle veteran Nathan Fillion hits the sweet spot: He's a wonderful actor who's a delight wherever he drops in.
In the May 9 episode of American Housewife (and in the show's Season 2 finale), he plays himself. "I'm a version of me that I think people imagine me to be," Fillion says. "Personable, but a little Hollywood." The sitcom's mom, Katie (Katy Mixon), and her daughter Taylor (Meg Donnelly) hunt down the former Firefly star at a sci-fi convention. To honor the cameo, here are more of his fab guest spots. Fill-ion up!
See Also
Captain Mal Reynolds' costume is still looking good in new pics.
Modern Family (Amazon Video)
Fillion's Season 8 weatherman, Rainer Shine, has perfectly coifed hair, soft hands and a real interest in…himself. He also has at least 20 years on his dippy, superficial girlfriend, Haley Dunphy (Sarah Hyland). "My first instinct is that I would never let my daughter date Rainer," he says. "But their relationship is kind of perfect, actually."
Santa Clarita Diet (Netflix)
In Season 1, Fillion's jerk real estate agent is killed (and mostly eaten) by zombie Sheila Hammond (Drew Barrymore). In Season 2, he's also a zombie—but all that's left of him is his noggin. "The biggest challenge of playing a head is not moving it," Fillion says. "Moving my head around is a crutch I use. Who knew?"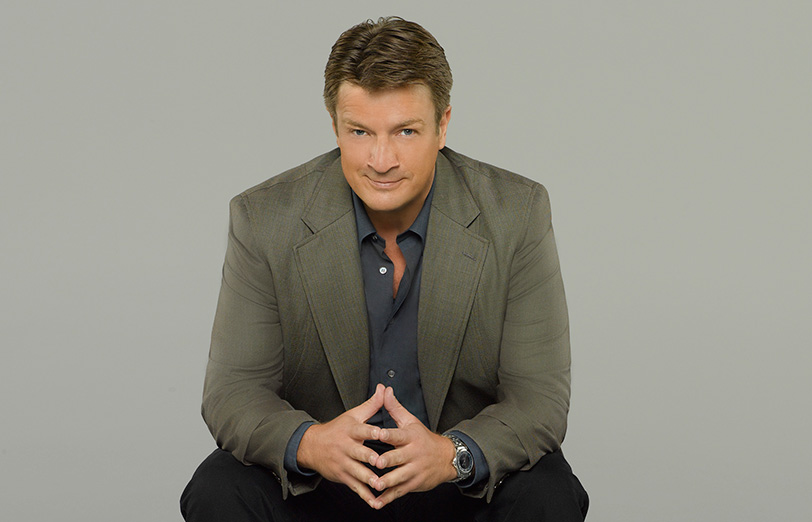 See Also
The cop dramedy is from 'Castle' showrunner Alexi Hawley.
A Series of Unfortunate Events (Netflix)
Maybe it's the thin mustache, but Fillion portrays the perfect Errol Flynn – like hero/agent in the second season. "The coolest thing about him is that he belongs to a real secret society," Fillion says, "and is dedicated to that society."
Brooklyn Nine-Nine (Hulu)
Fillion plays an egotistical actor who thinks that because he plays a detective on TV, he can solve real cases. "I've never met an actor like that," Fillion says of his Season 4 character, "but if I did, I'd want to hang out with him to be entertained."
American Housewife, Wednesdays, 9:30/8:30c, ABC