'Legacies': Welcome Back Jeremy Gilbert But Where's Caroline?
There's a (new) familiar face in Mystic Falls!
The Vampire Diaries character Jeremy Gilbert (Steven R. McQueen) returned to his hometown in the latest episode of Legacies, the combined spinoff series of TVD and The Originals.
Jeremy was hired by Salvatore Boarding School headmaster Alaric (Matt Davis) to track runaways Landon (Aria Shahghasemi) and Rafael (Peyton Alex Smith) and keep them out of trouble. The foster brothers were living in the woods, eating rabbits, and scamming people to make some cash.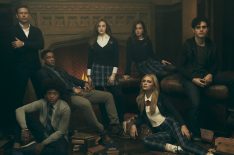 See Also
Will these young witches, vampires, and werewolves become the heroes or villains of the story?
Jeremy actually saved their lives by killing a werewolf hunter and then took the brothers back to the supernatural school.
Elsewhere in the episode, another original cast member's absence was solved.
Josie (Kaylee Bryant) revealed to Hope (Danielle Rose Russell) — while doing community service in the town as punishment for using black magic and starting a fight at a football game — that her twin, Lizzie (Jenny Boyd), is really missing their "mom," Caroline (Candice King), who is out of town on lengthy and dangerous recruitment missions.
See Also
'Manifest,' 'Magnum P.I.,' and 'Singe Parents' are all in the clear so far.
"Our mom is going on these really long recruitment missions recently. It's why she's extra testy. She just really misses her," Josie said.
And as TVD universe fans know, Caroline became pregnant with Alaric and Jo's twins via a spell cast by the Gemini Coven — a.k.a. she was their surrogate.
So, this could mean we will be seeing Caroline in the near future!
The CW just announced that additional scripts were ordered for the show's freshman season, bringing the total to 16 episodes.
Legacies, Thursdays, 9/8c, The CW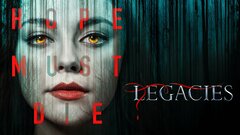 Powered by