'Gordon Ramsay's 24 Hours to Hell and Back' Promo Art: Get Your First Look at Season 2
Renowned chef Gordon Ramsay, is back for Season 2 of his latest hit Fox series 24 Hours to Hell and Back.
The blonde Brit drives across the United States in his state-of-the-art mobile kitchen and command center — called Hell On Wheels — helping struggling restaurants that are on the brink of shutting their doors.
Here's an exclusive first look at the promotional key art Fox released for the new season:
The fun part — besides Ramsay's perfectly timed insults and f-bombs — is that he has just 24 hours to turn the restaurant around.
"First, he sends in a team to record secret surveillance," a press release revealed. "Then, he goes in undercover to see the problems first-hand. As the clock ticks down, Ramsay and his team transform these restaurants with spectacular renovations, fresh new menus and hope for the future. It all builds to the end of the 24 hours, when grand re-openings of these restaurants are held for the public."
Besides revamping the food and decor, Ramsay most of the time acts as a therapist, helping the owners and staff come together to achieve their dreams.
"Gordon gives 100% in everything he does, and he took on the task of turning these restaurants around wholeheartedly," said Rob Wade, President, Alternative Entertainment and Specials, Fox Broadcasting Company.
"He may be these owners' harshest critic, but he's also their biggest champion, because he wants them to succeed. When all is said and done, it's really Gordon's heart that resonates with viewers, and we can't wait to see who he helps save next season."
Gordon Ramsay's 24 Hours to Hell and Back, Season 2 Premiere, Wednesday, January 2, 8/7c, Fox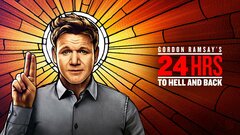 Powered by