First Look: Eden Sher Knows No Middle-Ground on 'Superstore' (VIDEO)
Let's be honest. It's kind of hard to believe we are really in the Golden Age of Television, seeing that Eden Sher was never even nominated for an Emmy during her run on The Middle.
All of those years as one of the greatest, most unsung talents on the screen, blending heart, humor and awkward adolescence into the inimitable Sue Heck should have be rewarded and we will fight anyone who says otherwise. Hopefully, ABC's planned Middle spinoff will work out, but until then, we can at least agree that it's a good day indeed when Sher guests on a show as charming and befitting of her talents as Superstore!
Both the actress and the comedy deserve more love all around — even if her character this time around is less Heck and more hella annoying. And still, we'd rather see her get under the gang's skin than not see her on TV at all.
Check out this exclusive first look at Sher (a self-avowed Superstore fan) from her stint on this week's episode.
Superstore, Thursdays, 8/7c, NBC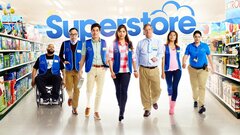 Powered by