Everything We Know About the 'Deadwood' Movie
HBO's Golden Globe and Emmy-winning Western series Deadwood ended 12 years ago, and now production has just begun on the long-awaited movie.
It's coming from original series creator, David Milch, and much of the show's original cast is returning, so it makes sense that the movie will take place 10 years after the events in the series finale (in 2006).
See Also
She's playing a 'charismatic socialite' with a 'dark secret.'
In a recent Deadline interview, the show's star, Ian McShane, revealed some very exciting details about what the movie will be about: "Deadwood is celebrating South Dakota as a state, and Hearst has come back and Alma has come back in town, so you have all the main characters converging and how they changed in ten years."
"Now Hearst wants to put telegraphs in town, which isn't going too well. Al has had a little bit too much of that over the years. There's a surprise for Trixie and Star," he added.
McShane even hinted that if the movie makes $115M, "HBO will somehow find a way to do another one."
Here are all the rest of the details we know so far.
Who's in the Deadwood movie?
Returning from the original cast:
Ian McShane (saloon owner Al Swearengen), Timothy Olyphant (sheriff Seth Bullock), Molly Parker (Alma Ellsworth), Paula Malcomson (Trixie), John Hawkes (Sol Star), Anna Gunn (Martha Bullock), Dayton Callie (Charlie Utter), Brad Dourif (Doc Cochran), Robin Weigert (Calamity Jane Canary), William Sanderson (E.B. Farnum), Kim Dickens (Joanie Stubbs), and Gerald McRaney (George Hearst).
Jade Pettyjohn is joining as a new cast member and will be playing a character named Caroline.
What's the story line?
Per HBO, "The indelible characters of the series are reunited after 10 years to celebrate South Dakota's statehood. Former rivalries are reignited, alliances are tested and old wounds are reopened, as all are left to navigate the inevitable changes that modernity and time have wrought."
The story line was also teased in the recently released trailer.
When does the Deadwood movie premiere?
The network officially announced the film will premiere Friday, May 31 at 8/7c on HBO, HBO Now, HBO Go, and HBO On Demand
Who wrote the script?
David Milch.
Who's directing the film?
Daniel Minahan (Game of Thrones, True Blood).
See Also
Series star Kristen Bell teased Season 4's first script.
Who are the executive producers?
David Milch, Carolyn Strauss, Daniel Minahan, Gregg Fienberg, Scott Stephens, Ian McShane and Timothy Olyphant.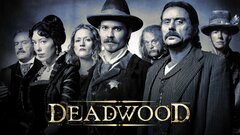 Powered by