'9-1-1' Star Oliver Stark Talks Buck's Love Life & Saying Goodbye to Abby
[Warning: The below contains MAJOR spoilers for Season 2, Episode 8 of 9-1-1, "Buck, Actually"]
It's no secret that 9-1-1's Buck (Oliver Stark) has been a little unlucky in love in Season 2 of the hit Fox drama. Ever since Connie Britton's Abby Clark departed the show after Season 1, he's been in a bit of holding pattern — until that finally came to an end in the November 5 episode, "Buck, Actually."
After months of waiting for Abby to return, Buck resigned himself to the fact that she's not coming back and he might as well reenter the dating pool. So how did things go? Below, Stark talks about everything from Buck's refined approach to romance, where he may be headed, and that surprise ending.
We saw Buck leave Abby's apartment in the previous episode "Haunted," would you say that served to close that chapter?
Oliver Stark: I think so. It's been a longtime coming and building towards that and I actually think it's a really nice way to end it — quite a powerful way for Buck. Rather than a letter coming from wherever she is in the world, he was able to make that decision I think is actually quite an empowering moment for him. So as far as I'm concerned — at least for now — that chapter is certainly closed which is exciting cause it means that he now gets to start anew and see what lies ahead.
Why do you think Buck's finally decided to let Abby go?
I think all of the other characters have been hinting for a little while and pushing further and further and harder and harder for him to take that step. And I think in particular having his sister kind of forcing him in that direction is something that really was a big factor. Nobody can wait forever and eventually it's a hard step to take but you have to take it and I'm happy and proud of him almost that it finally happened.
Single Buck is now a little bit awkward in the dating field. Is it fun to play that?
Dating in life can tend to be quite an awkward thing so I think it was only natural for him when he steps back into that world to almost have to find his feet again, and take baby steps. [It's] much to the amusement of the characters around him because they remember him as this kind of gung-ho, almost womanizing [guy], whereas now he's a lot more settled and mature.
It's much nicer for me to get to play through. I think it's much more human and something we can all relate to, it's kind of come full circle but it's also a new chapter at the same time for him.
It doesn't take him too long to find something with reporter Taylor Kelly (Megan West). What was your reaction when you read the script?
Yeah, when I first read it I was a little bit like, 'Oh, are we just going back to old Buck? I thought we were not gonna do that.' And I was assured that that would not be the case and it's kind of a point of pushing him to the cusp of being Season 1 Buck and seeing then what decision he's going to make. I think it's important to test your characters and find out who they really are. To put him right back into a possible relationship is a nice way to see if the impact of the relationship with Abby has been long lasting or if he's just going to fall back into his old patterns.
The episode featured a lot of different "love stories," do you think that influenced what direction Buck decided to take by the episode's end?
It's always a really clever thing that the writers do with this show where these themes that run through the emergencies and mirror themselves for the first responders' life. So yeah, I certainly think all of the emergency calls the team ends up on make him look at this own life and kind of help him figure out what does he want and where he wants to go next.
I think love is something that we all want and we all need so for him to look at all of these people in need and in really dire situations who have that love, I think it's only natural for him to take that and go, 'Hey, this is what I want as well.'
Your character pointed out the connection between his sister Maddie (Jennifer Love Hewitt) and Chimney (Kenneth Choi). Will that make things awkward now that Buck's crashing at Chimney's apartment?
I've been talking to some of the writers about it and trying to figure out because there are two ways they can go, right? He can either be really angry about it, or he can be like, 'Actually, if you're gonna date anyone, I know this is a good guy here and I know he's gonna treat you well.' Or maybe it's a mixture of both.
Maybe it's a case of starting at one and then finding his way to the other. I don't really know how that's going to turn out yet but there's certainly potential for some awkward moments which I'm sure — in fact, I know — that Kenneth and Jennifer are very happy to rub in my face as much as possible.
What has it been like getting to work with Jennifer Love Hewitt since she joined the cast?
It's been really lovely, and she's been doing this since she was a kid so she's got a lot of experience behind her. She's a complete professional but, at the same time, really just fun to be around. She actually called me today and gave me a little pep talk just about life and at little moments like that I really appreciate her.
It's very quickly become a sibling-like relationship, which is great because that means that we're not trying to force anything. It's just easy to be around each other and then that translates very well, I think, on the screen.
What else do you want to see for Buck this season?
More than anything, it's just about him continuing to find his place; one, within the team, and two, just within the world and trying to figure out who he is and that he doesn't have to be anything that he's not. I think we've seen him put on a mask and be this thing that maybe he didn't need to be in Season 1.
So, I'm just looking forward to him growing up, or continuing to grow up and trying to feel okay in his own skin, which is perfect for me. I hope it does go in that way because, you know, I'm an actor in my 20s – I'm going through the exact same thing. I find a lot of myself in Buck and a lot of Buck in myself, so it's really quite a therapeutic character to play.
What did you think about Buck's surprise ending with Ali (Tiffany Dupont)?
It was a big surprise to me as well having Ali come back. I think fans are gonna be really happy. The first time we met her character during the earthquake – I like to read through social media – people seemed to think there was a little spark or some chemistry between the characters. And so I think people are going to be really happy to see her character come back.
I don't know how that's going to play out long-term, but it's always exciting to have little threads where you don't know which one is gonna be the one that takes off. And so we'll see what happens.
Now that Buck's let her go, what are the chances Abby may make a surprise reappearance?
I would love that to happen. I don't know how probable or even possible that is but if it did happen, you know, that would certainly bring some drama with it. And it would just be nice to get to act opposite Connie Britton again. But I'm not holding my breath on it. If it does happen, I think both personally and for the story it can only be good news.
We asked Ryan (Guzman) about Buck and Eddie's fan favorite bromance. What do you think about the reaction viewers have had to it?
I think it's fantastic, I think it's really lovely. To me, that's a sign of people being invested in the show and invested in the characters and caring, so I'm all for it. I think if people are enjoying our relationship and having opinions on them that just means they're enjoying the show and I'm a huge supporter of that. I feel like all firefighters have to trust the person next to you with your life and there's a certain kinship that comes out of that. So I'm really happy that people have responded to it in a positive matter, and I'm sure it will continue on.
9-1-1, Mondays, 9/8c, Fox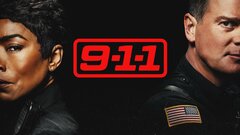 9-1-1
where to stream
Powered by