'9-1-1': 5 Craziest and Most Cringeworthy Crises
Think you had a rough day? Fox's hit drama 9-1-1 is brimming with reminders that it could've been worse.
Now in its sophomore season, the series has delivered countless OMG moments as it follows first responders rescuing folks from an array of jaw-dropping situations. (The November 5 episode features romantic encounters gone awry, including a first date that lands in the toilet, literally.)
Here, we revisit some of the most cringeworthy crises.
1. Strangulation by serpent (Season 1, Episode 1)
Reason No. 657 that puppies make better house pets than snakes: In the show's debut, firefighters (including Peter Krause) are called to a home where a python is, uh, hugging its owner.
2. Head case (Season 1, Episode 3)
Poor Howie (Kenneth Choi). It only took three episodes for the down-on-his-luck firefighter to become a victim himself. After unsuccessfully proposing to his gal pal Tatiana (Rachel Breitag), he zooms off, crashes his car and winds up with a piece of rebar plunged into his skull.
3. Sushi shocker (Season 1, Episode 7)
What's grosser than gross? Watching hero Buck (Oliver Stark) pull a 7-foot tapeworm out of a dude's derriere. The man's sushi addiction is to blame for the parasite. Farewell forever, tuna rolls.
4. Revenge tree (Season 1, Episode 8)
A widower goes wild on the tree his late wife used to hang herself by covering it with explosives. When it goes boom, the bullet his wife shot into it (she was aiming for her abusive husband!) strikes him.
5. Escalator of doom (Season 2, Episode 4)
In this lesson on how not to pop the question, a guy riding a mall escalator presents his girlfriend with a Ring Pop. Alas, when he reaches the top, the cover to a maintenance shaft gives way — and so does his chance for a happily ever after.
9-1-1, Mondays, 9/8c, Fox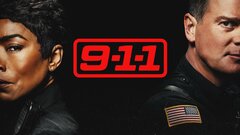 9-1-1
where to stream
Powered by