Will Abby Return? Are Athena & Bobby Together? '9-1-1' EP Spills on Season 2
Help is on the way! After a six-month hiatus, 9-1-1 — the fast-paced Fox procedural that follows emergency workers dealing with sky-high stakes on and off the job — heads into Season 2 with more of its trademark intensity.
In the premiere, the motley crew of Los Angeles police officers, firefighters, and call center operators struggle to keep their cool amid a massive heat wave. Ahead of that first episode, we asked executive producer Tim Minear to answer some of the questions that have nagged us since the explosive March finale.
See Also
Plus, find out when new series like 'The Cool Kids' and 'Rel' will make their debuts.
Is Abby gone for good?
When we left off, veteran operator Abby (Connie Britton) decided to take a "temporary" sojourn to Europe — or so her hunky young firefighter beau, Buck (Oliver Stark), was hoping. The action resumes several months in the future. Abby is still globe-trotting, and Buck is crashing (and pining) at her place, faithfully anticipating her return. "They're definitely in touch, and her character's presence will be felt," Minear says. "As far as Buck's concerned, he's keeping the home fires burning."
Considering Britton is currently doing two other series (Bravo's Dirty John and FX's American Horror Story: Apocalypse), we could all be in for a wait. "I don't know yet whether Connie will be able to come back. I would rule nothing out," says Minear. "The door is not only left open for her — it's propped."
See Also
And mayhem is about to hit Los Angeles.
Are Athena and Bobby an item now?
Viewers were equal parts surprised and delighted by the sudden sparks between LAFD captain Bobby (Peter Krause), a widower, and police officer Athena (Angela Bassett), who'd been slow to accept the news her longtime husband (Rockmond Dunbar) is gay. But this fledgling romance isn't soaring just yet. "Athena and Bobby are not officially a couple when we start up again — and yet, they kind of are," Minear says. "Athena is having trouble finding her footing." Regardless, the duo is going to give us plenty to root for, Minear confirms: "They're spicy!"
Will new emergency workers join the L.A. team?
Another lady from Buck's life — his big sister, Maddie (Jennifer Love Hewitt) — will report to work at the call center. An ER nurse by training, her arrival in town will be…unexpected. "Maddie was in a marriage with a very controlling man, and she and Buck haven't spoken for years," Minear says. "She's looking for a new beginning." (Let's see how her ex feels about that.)
Another recruit: firefighter Eddie Diaz (Ryan Guzman), a decorated former Army medic and single dad to a son with special needs. "Eddie is an old-school gentleman — he's very even-tempered and doesn't have anything to prove," Minear says. Alas, that won't keep Buck from being threatened by the hero. Says Minear, "It's like Buck's equilibrium has been compromised."
Will anything change behind the scenes?
In February, 9-1-1 co-creator Ryan Murphy announced he had signed an exclusive deal with streaming giant Netflix — raising concerns about what that would mean for his existing network series. "Really, nothing has changed yet," Minear says. "Ryan is still sitting at the same table in our office. He still has a hundred thousand projects going, and he's still completely involved in everything." Although Minear acknowledges there are likely to be shifts eventually, 9-1-1's DNA has been firmly established: "We are making the same show, 100 percent."
Can Season 2 possibly top the craziness of Season 1?
The first responders have already saved the day under some pretty far-out circumstances, including removing a 10-foot tapeworm from a sushi aficionado's rectum, rescuing a woman from being strangled by her pet boa constrictor, and bringing a flyaway bounce house back down to earth. There's always more inspiration to be found, often courtesy of real-life events, says Minear.
Following the heat wave story — complete with a Hollywood tour bus operator gone rogue, exploding manhole covers and widespread power outages — a related disaster hits on the second episode of the two-night premiere. Says Minear, "The pressure in L.A. is going to keep building and building…and it's all leading up to a 7.1 magnitude earthquake." Sounds totally seismic.
9-1-1, Season 2 Premiere, Sunday, September 23, 8/7c, Fox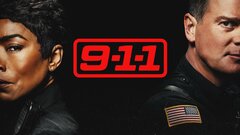 9-1-1
where to stream
Powered by