'God Friended Me' Star Brandon Micheal Hall on the Continued Search for 'God'
Who knew divine intervention could be so baffling?
Each week on CBS's new dramedy God Friended Me, atheist podcaster Miles (Brandon Micheal Hall) is guided by a Facebook user claiming to be God. Every friend suggestion from the "God" account leads Miles to someone who needs his help — and hopefully one step closer to discovering who is behind it all. Think of it as Touched by an Angel for the millennial age, minus the angels.
"'This experience has made Miles a lot more aware of the responsibilities he has to his fellow people," Hall says of the God account's influence. "[It's] the simplicity of putting yourself to the side and helping someone else."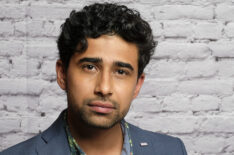 See Also
'[The show] is about this idea of humanity helping humanity,' says the actor.
In the November 25 episode, Miles and journalist Cara Bloom (Violett Beane) reunite with detective Ray Nicolette (Brent Sexton) to track down a chess champ who disappeared a decade ago. And over the next few months, the series will dive more into Miles's personal life as he and his preacher father (Joe Morton) try to become closer. "It's two steps ahead and one step back," Hall says. "It takes time."
So does finding "God." Even with the help of Cara and tech-savvy pal Rakesh (Suraj Sharma), Miles is no closer to figuring out who controls the social-media profile. And neither is Hall, since producers are tight-lipped with the cast too. The actor says, "It keeps us on our toes!"
God Friended Me, Sundays, 8:30/7:30c, CBS