'The Kominsky Method': Michael Douglas Reflects on Returning to TV After More Than 40 Years
Now here's a production with an impressive pedigree. For his new half-hour dramedy The Kominsky Method, about an older, L.A.-based acting coach, mega-producer Chuck Lorre (The Big Bang Theory, Mom) cast Oscar winners Michael Douglas (Wall Street) and Alan Arkin (Little Miss Sunshine) plus Last Man Standing favorite Nancy Travis.
"I'm in really good hands!" notes the 74-year-old Douglas. He tells TV Guide Magazine about returning to series TV after more than 40 years.
See Also
Michael Douglas & Alan Arkin are a resilient yet cantankerous odd couple.
This is your first starring role on a show since ABC's The Streets of San Francisco in the 1970s. Why now?
It's difficult to get the character-driven films that I prefer produced these days. Plus, I've been a big fan of Chuck Lorre's since Dharma & Greg and Two and a Half Men. He's a hell of a writer. But I wasn't thinking about TV at all until I got sent this script. It turned out to be a great experience.
How would you describe your character, Sandy Kominsky?
Sandy has failed at three marriages, and he wasn't as successful an actor as he hoped, but he found security as an acting teacher — and he's a good one. His best days as an actor are past, but he still has an allegiance to Norman [Arkin], his agent of 40 years.
You and Alan have terrific chemistry. Is this your first time working together?
It is. He got tired of me repeating lines from [Arkin's 1966 film] The Russians Are Coming, The Russians Are Coming! [Laughs] But it was great casting.
Tell us about Sandy's romantic relationship with his student Lisa.
When he's teaching and working with these young kids, there's a superficial level with many of them that drives him nuts. Finally, he has Lisa [Travis], an adult in his class who has the insight that only can come with age and who's also very attractive. Nancy was a joy to work with.
See Also
Plus, Chuck Lorre on why it's about the reality of aging.
A Lorre show always has an abundance of funny. This one also deals with heavy issues such as aging and death.
You could say it's tragicomedy. It is very difficult to write and perform, but it is an exciting challenge for me.
The Kominsky Method, Series Premiere, Friday, November 16, Netflix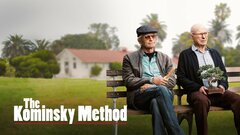 Powered by