Michael Douglas Reveals Why He Loves 'The Kominsky Method's Dark Humor
Despite creating such iconic sitcoms as Mom, The Big Bang Theory, and its spinoff, Young Sheldon, Chuck Lorre doesn't want to consider himself TV's king of comedy. As the veteran producer puts it, "Kings get their heads chopped off." Not that his latest show, The Kominsky Method, is a traditional primetime comedy anyway.
The tale of Sandy Kominsky (Michael Douglas), a Los Angeles–based thespian who works as an acting coach, definitely has witty rejoinders and farcical situations, but it's also quite poignant, with some tissue-ready moments. "The show is about coming to grips with the reality of getting older," Lorre says. "It's also about friendship. It's about what happens if your dream doesn't come true and another dream comes up. And it's about the craft of acting, which I wanted to honor with the role of Sandy Kominsky."
See Also
Chuck Lorre created the eight-episode half-hour dramedy slated for later this year.
The show's protagonist is a man who's made a mess of his family life. The thrice-divorced Lothario wasn't the most devoted father to his only child, Mindy (Big Little Lies' Sarah Baker), now the acting studio's receptionist. And despite the efforts of his cranky best friend and agent, Norman (Alan Arkin), Sandy's acting career wasn't a huge success either.
But he's done one thing well and that's create great actors. (In one scene, Sandy name-drops Faye Dunaway and Diane Keaton as some of his past students.) "One of the things I really appreciate," says Douglas, "is that despite Sandy's shortcomings, Chuck takes the character's career seriously."
Not too seriously, thankfully. There's plenty of humor explored in what Lorre calls "the enormous cultural gap" between Sandy and his wide-eyed, fresh-faced students, most of whom are five decades or so younger than him. "Those 50 years count for a great deal of cognitive dissonance," says the 65-year-old Lorre, who admits to mining his own life for inspiration. "This was a chance for me to write something that I'm living."
There is one mature adult in the class, the newly divorced Lisa (Nancy Travis, Last Man Standing). Lorre describes her as "more than a match for Sandy. She's sharper, smarter, faster and more grounded than he is." She also could tempt the teacher to break his no-dating-the-students policy.
Sandy's classes aren't the only moments that provide a perfect environment for Lorre's amusing and compassionate look at what Douglas, 73, calls "the absurdities of aging." It's all there, from the laugh-out-loud awkwardness of a prostate exam with a urologist played by Danny DeVito to the frustration with an adult child who has never really grown up (Lisa Edelstein recurs as Phoebe, Norman's pill-popping daughter) to the inevitable deaths of loved ones.
See Also
The projects hails from 'Revenge' creator Mike Kelley & Robert Zemeckis.
Through it all, Sandy and Norman bicker, banter and rib each other like a couple of long-married spouses. Those wonderful scenes are helped by the natural chemistry between Douglas and fellow Oscar winner Arkin. They had never worked together in their combined century of experience but seem like a seasoned comic duo. "It was great casting," Douglas says of Arkin, "and I think that's what Chuck does so well if you look at all of his shows."
For Lorre, landing Douglas — who hasn't done more than a guest spot on series TV since he patrolled The Streets of San Francisco on ABC 40 years ago — was quite the coup too. The Emmy winner (he snagged a trophy for playing Liberace in the 2013 HBO film Behind the Candelabra) wasn't necessarily looking for a TV gig when he got the script, but he quickly fell in love with the creator's sharp take on Sandy.
"For me, it's not a question of feature film or television. It's about really good writing. This is dark humor, the kind I love," Douglas sums up. "Like with my pictures Falling Down or The War of the Roses, in one moment we go from hilarity to tragedy. That's what life is all about."
The Kominsky Method, Series Premiere, Friday, November 16, Netflix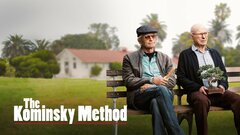 Powered by