'S.W.A.T.': Debbie Allen Talks Guest Starring as the Mother of Shemar Moore's Hondo
Even the bravest need their mamas sometimes.
In S.W.A.T.'s November 1 episode, "Never Again," Hondo (Shemar Moore) is "emotionally affected by a suspect's death" during a mission, causing him to visit his mother, Charice, played by the iconic Debbie Allen.
See Also
Plus, find out what other challenges are ahead for the show's characters.
Over dinner, he opens up to her about his high-stakes job and the mental and emotional challenges he's currently battling.
Allen spoke with TV Insider about why she added the guest spot to her already stacked schedule and how this episode represents something larger about mental health.
You're very busy — how did you end up doing this guest spot?
Debbie Allen: One of the writers on S.W.A.T. is my niece, Angela Allen, and she had asked earlier this season. [She told me] there was going to be a mom and would I think about [playing her]. Then the offer came and I know this show really is such a big favorite and I love Shemar. So when they asked me to be his mom, I worked it out with Grey's Anatomy to be gone one day so I could do it.
So you knew Shemar previously?
We've known each other for a long time. We've never worked together before but this was a very nice moment. Their show is so action-packed [but] there's not as much [about] his character behind the scenes — who he is at home.
What was the chemistry like with him?
It was a pretty natural discovery of a mother-son relationship. We found chemistry rather quickly. We had a few moments to talk and share some stories because Obba Babatunde plays Shemar's character's father on the show and we go way back. I left [Obba] a message that his TV son looks like his mother [Laughs].
Hondo comes to you seeking advice after a difficult day. How does your character comfort him?
This scene is really more about Hondo as a man and where he is a person and certainly his relationship to women, which is why his mother in this scene is very important. Who he is as a man is explained a lot just by seeing how he is with his mother.
See Also
'His job is his life,' says the actor.
Do you think this story line is more broadly about seeking help for mental health issues, especially for a life-or-death job?
It certainly does bring up the question: how do those people who are actively in this world, in this life, day in and day out — who is there to catch them? How do they survive the loss of people, the killing of people, the dangers when they're supposed to protect people? Sometimes they're in harms way and have to cause harm, as well. It's a good question about what keeps them stable. That's why it's very interesting to learn about their home lives. You see them in action all the time but when you come home it's another story.
Are we going to see your character again?
They're calling now about some availability in December. My Grey's family knows it's my niece's show and that I want to do it for her. So we'll see if we can try and figure it out. I hope so.
Watch a sneak peek of Allen in her role below:
S.W.A.T., Thursdays, 10/9c, CBS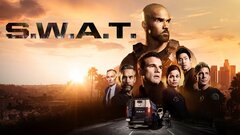 Powered by