Why 'Arrow's Malcolm Merlyn Had to Lose a [Spoiler]
Spoiler alert! Do not read further if you haven't seen the latest Arrow episode, "Sins of the Father."
You gotta hand it to Oliver Queen (Stephen Amell). No matter what Malcolm Merlyn (John Barrowman) thinks, he's both pretty and smart.
"He's crafty," agrees executive producer Marc Guggenheim, explaining that the Green Arrow's brutal actions last night—chopping off Malcolm's mitt during a battle—were borne of the no-win situation set up the week before. After Nyssa (Katrina Law) tasked her reluctant husband to off the League of Assassins leader in exchange for an elixir that could save the dying Thea (Willa Holland), "we put Oliver in a situation where someone should die," continues Guggenheim. "It was either going to be Nyssa, Malcolm or Thea. So for us, it was about how Oliver could work out a solution where no one dies, yet there are still consequences."
In addition, he says that there was also a logistical challenge of actually getting the ring Nyssa so desperately needed off of Merlyn's finger, in order to become Ra's al Ghul. Sure, Oliver could have beaten Malcolm without killing him and then swiped the ring, but "that would have been awkward," laughs Guggenheim. "Like, 'Oh hey, stay still while I take this from you!' Then it occurred to us in a moment of inspiration that, you know, if Oliver took the whole hand off, that would solve that problem…so that is what we did!"
After all, with Malcolm in league (get it?) with Damien Darhk (Neal McDonough), Team Arrow could probably use an extra hand or two right about now.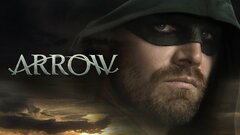 Arrow
where to stream
Powered by