Katrina Law Teases 'Arrow's 'Epic' Battle of Big Twists and Surprises
Only Nyssa al Ghul (Katrina Law) would back Arrow's Oliver Queen (Stephen Amell) up against a wall and not use that leverage for sexytime stuff. Instead, the sexually enigmatic daughter of the late League of Assassins honcho Ra's al Ghul has made our Green Arrow guy—and her husband by forced marriage—an indecent proposal of the deadlier kind: Break his no-kill promise and off new League leader Malcolm Merlyn (John Barrowman) in exchange for her stash of Lotus, the magical elixir that can save Ollie's dying sister Thea (Willa Holland). Will he go through with it? We'll find out in tonight's episode, but before then, Law is filling us in on what's up with Nyssa's latest visit to Star City.
RELATED: The Secret Past of Malcolm Merlyn in DC Comics Series From John Barrowman
Desperate Times Will Call for Desperate Measures
"Nyssa is definitely in a desperate place, especially where she has to go and ask for Oliver's help. She's not necessarily one to ask for help!" laughs the actress, adding that Nyssa is "swallowing a huge pill" by asking Oliver to kill Malcolm. "She knows that he has sworn off killing…this is a big ask."
Nyssa's Aim Continues to Be True
As the over-looked heiress to the League of Assassins throne, Law feels that Nyssa's vendetta against Merlyn is justified. "All of the stuff that has happened to her over the past couple of seasons has been one piece of her identity being stripped away at a time, [including] her title as Ra's al Ghul," she explains. "That was just too much for her." Now that her father and Malcolm have turned the League into a "very evil" entity, Law contends that Nyssa's motives aren't as malignant as they seem. "She wants to take over so she can straighten out the League of Assassins again."
The Friendship With Laurel Stays Strong
Raving about costar Katie Cassidy, Law confirms that Nyssa and her bud Laurel "have a beautiful scene" coming up. "The writers did such an amazing job writing this really intricate scene with different levels and layers," she offers. "Plus, I love working with Katie. She and I have such a good chemistry and connection. I think the Laurel and Nyssa fans are going to be really excited to see the scenes. Also, I just think it's really important for two strong female characters to have a scene together where it's based upon friendship and not developing a love relationship or anything like that, because you hardly ever see that."
Oliver Will Have to Make a Difficult Decision…
"I think this will be a good test of character" she says. "How far is Oliver willing to go to save his sister? Because Nyssa's serious. She's not giving up that Lotus unless Malcolm goes down."
…But It Won't Be as Bad as Someone Else's Decision
Even if Oliver agrees to her terms, Nyssa will still mix it up with Merlyn and "it is epic," promises Law. "It is one of the biggest battles of the season and there's twists and surprises by the end of it." Calling the confrontation "a battle for her life," the actress teases that "it's going to be pretty bad, especially for one of us. We'll find out which one. It'll be shocking what happens."
Arrow airs Wednesdays, 8/7c, The CW.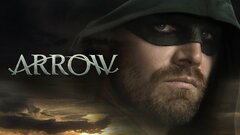 Arrow
where to stream
Powered by