'The Kids Are Alright' Cast & EP Break Down Why the New Series Is Relatable (VIDEO)
ABC's new comedy series The Kids Are Alright is winning over the hearts of viewers.
The network just announced that it has ordered additional scripts for its freshman season after it premiered to 6.6 million live and same-day viewers. One of the reasons this show — which follows the Cleary family in 1970s Glendale, California — is resonating with audiences is because it's so damn relatable.
See Also
Plus, the stars reveal what their character's parenting style.
The Clearys are an "Irish-Catholic family, with eight children who happen to all be boys," Michael Cudlitz, who plays patriarch Mike Cleary, notes in our exclusive behind-the-scenes featurette.
In a world of outrageous TV premises, this is a story about a brood that's "just trying to make ends meet," explains Mary McCormack, who plays tough-but-tender matriarch Peggy Cleary.
Executive producer Tim Doyle knew a thing or two about this type of family when he created the show. "It is definitely inspired by my life," he says. "I have eight brothers. I grew up in Glendale in the 1970s, so the character of Timmy is a pretty close analog to me growing up."
Watch the full featurette below:
The Kids Are Alright, Tuesdays, 8:30/7:30c, ABC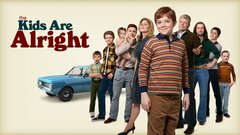 Powered by