'The Kids Are Alright': He Said/She Said With Michael Cudlitz & Mary McCormack
The Kids Are Alright proves an axiom that hard times and humor go hand in hand. Set in the turbulent 1970s, the sitcom follows the Clearys, an Irish Catholic family in a working-class L.A. suburb.
Dad Mike (Michael Cudlitz) and mom Peggy (Mary McCormack) are white-knuckling their way through raising eight boys. Money and patience are in short supply, but there's love to spare. The folks weigh in.
What is Peggy and Mike's parenting style?
Michael Cudlitz: Day to day and moment to moment! Mike is very much like my parents were: At times they had no idea what the hell they were doing, but they're not going to show that to anybody.
Mary McCormack: I have three kids myself, and if they're fed and breathing, it's a job well done! And in the '70s, some things just didn't get discussed. If I ever went to my dad to talk about feelings, he'd be like, "What are you, a communist?"
How are times tough for the Cleary family?
Michael Cudlitz: I think this show is a nice reminder that even though there have been periods in history where everything is falling apart — gas prices are skyrocketing, the country is going to war — we made it through, no matter what.
Mary McCormack: There's a moment where I say, "Fetch some tinfoil out of the trash" — and then I start to iron it!
Has this gig made you nostalgic for a bygone era?
Michael Cudlitz: Oh, yeah, it's definitely brought me back to that time before air bags — all of the air bags we have in our life today. Things have gotten so politically correct.
Mary McCormack: Nostalgia is a mixed bag. It's great to think back on how kids used to ride around on their bikes and not come home until dinner. On the other hand, we've made progress. Seat belts save lives. I'm not putting my kids in a car without them!
The Kids Are Alright, Series Premiere, Tuesday, October 16, 8:30/7:30c, ABC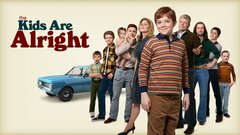 Powered by