'Chilling Adventures of Sabrina' Conjures Up Spooky Fun In Its Series Premiere (RECAP)
As a child of the '90s, my knowledge of Sabrina the Teenage Witch begins and ends with the Melissa Joan Hart sitcom which was an after-school staple here in the UK. And even then, my main memory of the show is a wise-cracking animatronic cat. In fact, it wasn't until recently that I learned the series is based on an Archie Comics character from the 1960s (sorry; I'm not a comic guy). So when I heard Netflix was producing a dark reboot of the beloved series I was intrigued.
Chilling Adventures of Sabrina is the brainchild of Riverdale creator Roberto Aguirre-Sacasa (adapted from his comic of the same name) and was originally conceived as a companion piece to the popular CW series. The Riverdale crossover gimmick was dropped when the project moved to Netflix, but it's clear both series share surface similarities: supernatural teen-dramas set in a sort of alternate-reality where retro Americana and chic knitwear meets modern day tech. But where Riverdale thrives on its glossy teen romance and small-town kitschiness, Sabrina conjures up something more akin to Gothic horror, with a wicked sense of humor to boot.
See Also
The '90s sitcom and upcoming Netflix drama take these characters in totally different directions.
The first episode of this 10-part season (now streaming on Netflix) wastes no time in throwing us into the thick of the story. Sabrina Spellman (Keirnan Shipka), a half-witch, half-human high schooler, is the kind of girl who laughs in the face of authority; the same way she laughs at the unrealistic zombies in Night of the Living Dead. As her 16th birthday rapidly approaches, the blond enchantress finds herself at a crossroads: remain in the mortal world or sign her soul over to the Dark Lord in a tradition known as the Dark Baptism (imagine an emo episode of My Super Sweet 16).
Although Sabrina is fascinated with magic, and keen to enhance her powers, it would mean leaving behind the life she's built for herself in the mortal world while attending Baxter High. That includes her sweetly naive boyfriend Harvey Kinkle (Ross Lynch) and her best friends Roz Walker (Jaz Sinclair) and Susie Putnam (Lachlan Watson), the latter of whom is being bullied at school due to her non-binary gender identity.
The thought of abandoning her friends fills Sabrina with guilt, not least because she hasn't told them that she side-gigs as a badass sorceress. And when she does inform Harvey that she'll be leaving Greendale to attend a private school, his reaction is one of frustration and suspicion. While Sabrina does open up to Harvey about her witch upbringing, the information overload proves too much, and so she casts a memory-wiping spell on her clueless beau.
Pushing Sabrina towards the dark covenant are her witch aunts Hilda (Lucy Davis) and Zelda (Miranda Otto). Hilda, the more motherly of the pair, is a little more understanding of her niece's dilemma than Zelda, who couldn't care less about Sabrina's high school sweetheart and best buddies. As far as Zelda is concerned, Sabrina must follow the supposed wishes of her deceased parents to sign herself over to Satan and join the Academy of Unseen Arts.
The only person Sabrina can talk to on a level about this whole supernatural quandary is her pansexual cousin from England, Ambrose (Chance Perdomo), who is under a housebound spell which makes it impossible for him to leave the grounds of the Spellman home/mortuary. Though she also finds guidance from her "familiar," Salem, who remains a black cat, like in the Joan Hart series, but far less chatty and way more mobile.
It's in figuring out this conundrum that we begin to see Sabrina as a truly heroic figure. And Shipka's absorbing performance brings with it an earnestness which makes it easy to root for the character in her fight for justice. It never feels like Sabrina is the stereotypical rebellious teen challenging authority for cheap laughs and social media kudos. She recognizes inequality both in the supernatural and mortal world and refuses to abide by old traditions simply because that's how things have always worked.
See Also
'One moment you're laughing, next you're scared and then you're crying,' she teased.
"Why does [the Dark Lord] get to decide what I do or don't do with my body?" she asks her Aunt Zelda. The answer that it's "witch-law" is not good enough for Sabrina. "Maybe I can talk to someone before my baptism, someone who can help me understand these things so that I can make an educated choice," she continues. The concept of "choice" is laughable to Zelda, who blames her niece's defiance on her late mother, a mortal who Sabrina's warlock father broke witch-law to marry. But to Sabrina, there is nothing more valuable than "choice," and without it, there is little purpose of being.
Sabrina questions having to give up her agency to the Dark Lord the same way she grills Principal Hawthorne (Bronson Pinchot) over his protection of the bullies on the high school football team. When Hawthorne suggests Susie move to a new school if she's having such a hard time, Sabrina casts a creepy spider-spell over the puritanical principal. It's not just an act of petty revenge; with Hawthorne momentarily indisposed, it allows Sabrina and Roz to push through their women's protection club, which will hopefully be of help to Susie and the other schoolgirls should Sabrina choose to leave.
It's not just the patriarchy which Sabrina is up against. Demonic forces are out to terrorize her too. There's Prudence, Dorcas and Agatha (Tati Gabrielle, Abigail Cowen, and Adeline Rudolph), collectively known as the Weird Sisters – a sort of occultist Mean Girls – who attempt to cast a spell on Sabrina to stop her from attending the Academy. However, the most menacing demon comes in the form of Miss Wardwell (Michelle Gomez); Sabrina's favorite teacher who is violently stabbed in the neck by a bedeviled child and subsequently possessed by the devil's handmaiden. Gomez recently delighted as The Master in Doctor Who and shows similar signs of manic villainy in her performance here as she tries to hunt Sabrina down with a voodoo-doll scarecrow. The wheat field specter is no match for Salem though.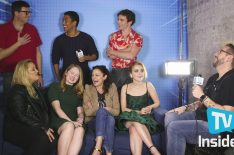 See Also
'It's such a binge show,' says star Kiernan Shipka.
By the end of the episode, Sabrina's request to talk with someone about her impending baptism brings her face-to-face with the High Priest of the Church of Night, the sinister Father Blackwood (Richard Coyle). As Satan's representative on Earth, it is Blackwood's responsibility to convince Sabrina to sign her name in the Book of the Beast. An ominous cliffhanger which suggests Sabrina's fight for her identity is not going to be easy.
Additional Notes:
-Welcome to TV Insider's coverage of Chilling Adventures of Sabrina! I'll be writing episodic recaps for the full season. My recap of episode two will be published later today and then look out for a new recap per day between now and Nov. 2. Thanks for reading!
-I love the comic-book style opening credits. Very cool, very Halloween-y.
-A side plot in this episode sees a grieving couple bring their deceased son to the Spellman Sisters mortuary. Ambrose later discovers a witch-mark on the cadaver which suggests the boy was a warlock.
-I know Sabrina was intended as a Riverdale spin-off, but given the town is called Greendale, I'm now hoping for a Community crossover. Troy & Abed cooking up magic potions? Britta debating the moral ethics of the Church of Night? Tell me you don't want to see that?!
Chilling Adventures of Sabrina, Streaming, Netflix
Powered by