'The Walking Dead' Star Andrew Lincoln Shares His 'Satisfaction' Over Rick's Exit
It's yet another 90-degree September afternoon outside Atlanta, and the cast members of The Walking Dead take turns trying to put into words how it feels to be filming without Andrew Lincoln, ex–sheriff's deputy and de facto leader Rick Grimes. It's not easy.
"I don't like goodbyes," says Melissa McBride (tough Carol Peletier). Fans of the zombie apocalypse drama may even consider the linchpin character's exit — which is coming up fast — the end of the world, but the show does go on. (We haven't even seen the Whisperers, human antagonists who camouflage themselves among the walkers by wearing gnarly skins of the dead!)
But for now, as Season 9 continues, the conclusion of Rick Grimes's story looms large.
How will Rick leave?
"I can't tell you that!" is the usual refrain from cast members and executive producer Angela Kang when questions get remotely close to the how and when of you-know-what. Lauren Cohan, aka fierce Hilltop boss Maggie Rhee, is also leaving soon to star with Scott Foley in ABC's midseason drama Whiskey Cavalier. Says Norman Reedus (cool, battle-ready Daryl Dixon) of his two costars: "We haven't seen these characters, like, die or anything" — but that may be misdirection.
Rick's demise would make an excellent justification for the confirmed return appearances of three former cast members whose characters all perished: Jon Bernthal (Rick's fellow lawman Shane Walsh), Sonequa Martin-Green (noble Sasha Williams) and the late Scott Wilson (Maggie's farmer dad, Hershel Greene). Plus, the Walking Dead family celebrated Lincoln's final day with an on-set party… but did that qualify as one of the show's notorious "death dinners" for bucket-kicking characters?
Whether Rick rides off into the sunset, becomes walker chow or some scenario in between, Lincoln says he wanted to go out "with everything left on the field." Like fans, he felt the emotional gut punch of this goodbye. After all, he's played the pillar of strength (with a few cracks) since the series debuted to much fanfare on Halloween 2010. "This is very much about completing something I'm very, very proud of," he says. "The overriding sense I had when I finished was great satisfaction."
Who can fill Rick's shoes?
Without Rick around to keep the group focused on the mission(s) at hand, the unofficial role of leader is left wide open. Who steps up? "I think anybody from Alexandria or in our core group has the potential to be a leader of any of the communities," says McBride, whose abused housewife turned formidable survivor Carol is a contender.
Reedus acknowledges, "It's a big year for me, for sure…. [Daryl's] got street smarts, and street smarts in this world go a long, long way." But in terms of the big picture, "It's not one person filling Rick's shoes, but everyone steps up to the plate." The actor could be talking about Lincoln, too, when he adds, "No one can take Rick's place. He set a guideline and a way to be that people believed in and follow."
Laying the groundwork for the future, Kang warns that the process of filling the power vacuum will be impacted by the survivors' emotional states. Thus far, she says, "It's all these people we've been setting up as leaders rising up. But something that is a massive, traumatic moment for them obviously has a huge ripple effect." Like maybe Rick meeting the grim reaper? Not that we know this for a fact…
"We see how they are fighting against life being dragged down by [this moment], trying to figure out how to move on," Kang continues. "Hopefully, [we'll do this] in a way that people aren't expecting. We've tried to mix it up a bit."
What's going on with Negan?
Jeffrey Dean Morgan's dastardly (and verbose) villain is still behind bars, and according to the actor, Negan's back-and-forths with Rick mark "the [sharpest] we're going to see Negan for a bit. It's a big downhill ride for him." Yes, the sadistic character viewers love to hate has been tamed, in a sense, by his shadowy solitary confinement. In a nutshell, says Morgan: "He's starting to lose it."
But even at his lowest, Negan is never not making plans, especially with leadership up for grabs. "Negan is going to try to be ahead of that game," Morgan says while hinting of — hard to believe — redemption. "I don't think the characters are going to buy it, but to me it's genuine." So having his life spared did change Negan for the better. Chalk up another good deed to Rick Grimes. We'll miss him.
The Walking Dead, Sundays, 9/8c, AMC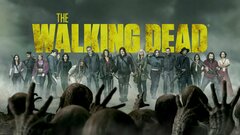 Powered by