Jim Parsons & Kaley Cuoco Take Fans Behind-the-Scenes of 'Big Bang Theory' (PHOTOS)
It's a bittersweet year for the cast of The Big Bang Theory.
The long-running CBS sitcom is ending after 12 seasons, and two of its stars are soaking up every last minute on set.
Jim Parsons, who plays the show's lead character Sheldon Cooper, posted a sweet message to his co-star, Kaley Cuoco, who plays Penny. He praised her hard work on the show and the longevity of her career.
Parsons pointed out that while he was still an undergraduate, Cuoco was already working in film and TV industry.
Cuoco had her own moment of realization. She posted a TBBT photo from set, which was a throwback to the very first season of the show.
The actress even pointed out her Ugg boots, where which all the rave in 2007.
Last season, Parson and Cuoco's series was the No. 1 show on broadcast television and averaged almost 19 million viewers a week, which is staggering for a sitcom. This year, Big Bang premiered in September to 12.7 million live viewers, and had a 2.4 rating in the 18-49 demographic.

The Big Bang Theory, Thursdays, 8/7c, CBS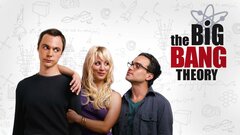 Powered by