Jen Lilley on Making Music That Gives, 'Days of Our Lives' & Her New Hallmark Holiday Movie
Jen Lilley is known for her work on soaps like Days of Our Lives and films including The Artist. A successful acting career has allowed her to combine another passion for singing, particularly in music with a charitable cause she truly stands behind.
Lilley recently released King of Hearts, a 1960s-sounding throwback, as the first single from an album scheduled to drop next year. The philanthropist is donating a hundred percent of the proceeds from the song, album pre-sales and website merchandise to Project Orphans.
The initial amount generated is going to provide a Ugandan child named John with lifesaving heart surgery. After reaching the benchmark money will go to monthly operating costs through March and the organization's next fundraising gala. By then, Lilley hopes to launch her own charity and build a children's village in California for those orphaned by the foster care system.
"Charity in general is important to me," she said. "It's one of the reasons I got into the industry in general…I just love funding causes. Charity is very important to me. Specifically, orphan and foster care is extremely important to me because I'm a foster parent and an adoptive parent as well."
Lilley is encouraging people on social media to participate in the #KingOfHeartsChallenge by downloading the single, posting a dance video and challenging three friends to do the same. Celebrities including Danica McKellar have shown their support.
The real deal @danicamckellar! 💕❤️💕 #KingofHeartsChallenge pic.twitter.com/Ypy1SRkclW

— Jen Lilley (@jen_lilley) October 16, 2018
"I want to make music that you like and is empowering and makes you feel good, which I think is something we can all use these days with things being so tense around the world," Lilley said.
"I think that is what I like about the 60's style is because there are so many political, world tension parallels between the 60's and current day. It was 60's music and Motown really that was an escape for people. I want my music to be music that gives."
Lilley, who opened up about a miscarriage on social media to let others know they are not alone, has been a foster and adoptive parent for a little over two years. For her, the experience is transformative.
"Parenting is really selfless, but foster care is tricky," she said.
"One thing about foster care is you have zero control, which as a control freak does freak me out. It has really helped me evolve as a person and make me a more well-rounded, truly empathetic person. It has been very trying emotionally but just so wonderful because you have to fully surrender to the fact and trust that the love you are giving these children is going to have a lasting impression."
The mom is also juggling a busy work schedule. Her latest Hallmark holiday film Mingle All the Way sees her as Molly, the founder of a networking app designed to pair busy professionals together for events without the commitment. Lilley is especially excited for the project knowing she found the script written by Samantha Herman and actually pithed it to the network.
"That is a big goal of mine as a female in the industry," Lilley said. "I want to produce and end up directing later. I got to be more involved than just the actress. I thought the material was really smart. It was such a smart script.
"I harken back to a script you would see Meg Ryan and Tom Hanks doing. For me, that's really the bar when I'm reading a romantic comedy. I want it to be funny, smart, but also feel good. This checked all the boxes. I just felt that Hallmark would love it."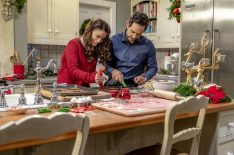 See Also
Stars from 'Fuller House,' 'The Flash,' 'One Tree Hill' and more are set to appear.
Lilley also got to bring Theresa Donovan back to Salem and Days of Our Lives for a story arc this past summer. She was honored they didn't recast the role and welcomed her back with open arms.
The character was the victim of human trafficking, taken by the Mexican cartel in order to save her son Tate and husband Brady. The character was concerned if he found out he would go after her and the cartel, which would probably end badly. Theresa pushed the family away, making them think she regressed back on drugs.
"She had to convince him she was this character, but every time she turned away she was heartbroken," Lilley said.
"When you get emotional about something, your heart is in your throat. It's the worst feeling. You can't reveal how you feel. You feel the character as an actor. It was so painful for my own body. I remember a couple of times after we were shooting during my exit that I would literally throw-up after my scenes because I was holding on to it so hard and wanting to cry. I couldn't let it out."
Lilley found it cathartic that the truth was revealed, bringing everything full circle. Theresa doesn't stay for long, gaining full custody of Tate and heading to Los Angeles to care for her mother diagnosed with cancer. But is it for good?
"Being back was really gratifying for me on so many levels," she said. "The classic soap opera trope is you go to mail a letter and never come back. I was really happy they let me close that out. It's not a matter of me wanting to go back. It's a matter of time.
See Also
The actor also talks everything from challenging fellow Scot Sam Heughan to meeting Judge Judy and playing Hercules!
"I have a six-month-old and a two-and-a-half-year-old. Major props to the woman who do that. You're not really allowed to have babysitters when you are a foster parent. So, it was impossible for me.
"I feel like I aged so much in those eight weeks [laughs]. But it was great. I will eventually go back when my kids are older, but for now it's nice to know that I still have family there and if I want to go back that it's not a closed door for me."
Visit Jen Lilley's music site to see how you can help Project Orphans.
Mingle All the Way, Saturday, December 1, 8/7c, Hallmark Channel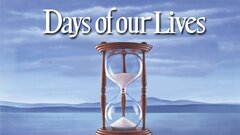 Powered by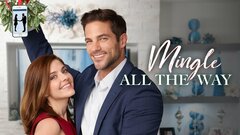 Powered by