'Deutschland 86' Is Perfect Remedy for Those Mourning 'The Americans'
Proving that suspense is a universal language, this sequel to the 2015 German series Deutschland 83 shifts gears from John le Carré spy territory to a geopolitical thriller worthy of high-end Robert Ludlum.
Martin Rauch (Jonas Nay), an East German soldier recruited three years earlier to cross into West Berlin as an undercover agent, has been in exile since, toiling in an Angolan orphanage. He'd love to get back home to meet the son he never knew, but first, a new mission.
An elaborate scheme to raise money for the impoverished Communist regime sends Martin and his calculating Aunt Lenora (the sensational Maria Schrader) to South Africa. Again posing as capitalists, they aim to sell military arms to enemy forces of Botha's apartheid government. Harrowing complications ensue, catapulting the action to the Libyan desert and eventually to Paris.
Martin is the most intriguing of heroes, often trying to avert catastrophe and save innocents while carrying out the orders of a repressive police state. Miss The Americans? Pledge allegiance to Deutschland.
Deutschland 86, Season Premiere, Thursday, October 25, midnight/11c, SundanceTV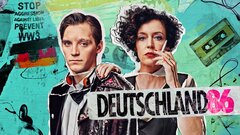 Powered by