A Female 'Doctor Who,' New Beginning for 'Walking Dead,' 'Conchords' in Concert, Past Secretaries Visit 'Madam'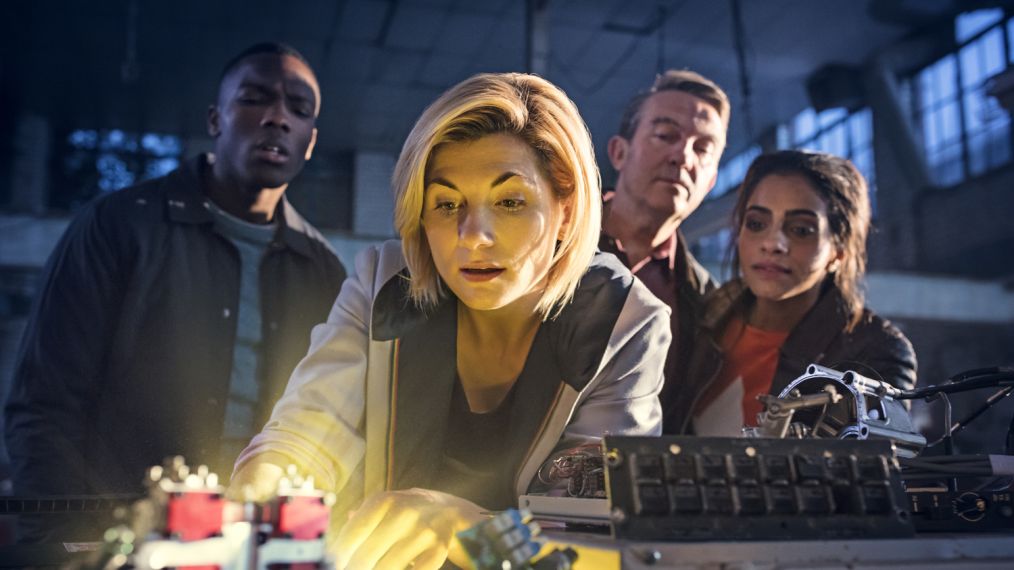 A critical checklist of notable weekend TV:
Doctor Who (Sunday, 1:45/12:45c, 10:45 am/PT, 8/7c, BBC America): When the regenerated Doctor is informed she's now a woman, her first response is just about perfect: "Am I? Does it suit me?" Does it ever. Jodie Whittaker (Broadchurch) is a brilliant choice, and a delightful fit, in writer Chris Chibnal's exhilarating new take on the impulsive world and time traveler. Her inaugural episode, screened simultaneously on both sides of the pond, and coast to coast (as well as in front of a live audience at New York's Comic Con), is a dizzying display of thrilling heroics. The Doctor knows she is there to save the day, and possibly the world, though she can't quite yet recall just who she is and where her TARDIS has gone. "These legs definitely used to be longer," she laments as she takes on an armor-plated foe to help our her new friends and future companions, including Yasmin (Mandip Gill), a lady cop, and Ryan (Tosin Cole), a lad with coordination issues.
The Walking Dead (Sunday, 9/8c, AMC): Have you heard? Rick Grimes (Andrew Lincoln) is leaving. AMC isn't hiding that fact in its promotion for the zombie horror hit's ninth season, being billed as "Rick Grimes' Final Episodes," but it's probably better to look at this as a "A New Beginning" — the title of the season opener — because the reset is as promising as it is necessary. The action picks up a year and a half after the endless war with the Saviors and their tiresomely villainous leader, Negan (Jeffrey Dean Morgan, thankfully MIA in this first hour). The new season gives off a distinctly Western vibe, with horse-drawn museum artifacts helping our heroes rebuild a civilization, and an incident of rough frontier justice. All of which seems a perfect setting for Sheriff Rick's last stand, whenever and whatever that will be.
Flight of the Conchords: Live in London (Saturday, 10/9c, HBO): Sing and laugh along with the quirky New Zealand troubadours, Bret McKenzie and Jemaine Clement, in a concert recorded in July at London's Eventim Apollo. Many of the irreverent tunes from their revered HBO comedy series (2007-09) will be reprised, along with some new material.
Madam Secretary (Sunday, 10/9c, CBS): An attack on the White House paralyzes the nation's capital, creating panic within the McCord home — and the diplomatic fallout leads Secretary McCord (Téa Leoni) to call on former secretaries of state for advice on how to proceed. (This is apparently a common communal practice, although maybe not so much these days.) Cameos from Colin Powell, Madeleine Albright and Hillary Clinton — and a terrific guest appearance by Linda Lavin as a formidable personal assistant, reminiscent of The West Wing's Mrs. Landingham — get the fifth season of the political drama off to a strong start. The theme going forward: a hope for unity in a time when toxic nationalism, "a perversion of patriotism," threatens democracy and the world order.
Dancing With the Stars: Juniors (Sunday, 8/7c, ABC): Oof, there oughta be a (child labor) law — but ABC, desperately turning to reality programming to fill what used to be a defining night for the network (Desperate Housewives, Revenge, Once Upon a Time) — introduces a kids' version of the dancing competition, with contestants aged 9 to 14. (It can't be worse than the adult cast currently hoofing it on Mondays.) Hosts are former contestants Jordan Fisher and Frankie Muniz, with Olympian Adam Rippon, longtime pro dancer Val Chmerkovskiy and choreographer Mandy Moore as judges. The kids and their partners will be mentored by DWTS pros, with the most recognizable names among the cast including black-ish co-star Miles Brown, reality curiosities Alana "Honey Boo Boo" Thompson, Dance Moms' Mackenzie Ziegler and MasterChef Junior winner Addison Osta Smith, actors Ariana Greenblatt (Avenger: Infinity War), Jason Maybaum (Raven's Home) and General Hospital's Hudson West. Second-generation talent includes Stevie Wonder's son, Mandla Morris, Scottie Pippen's daughter, Sophia, and Bristol Palin's son, Tripp. Skateboarder/social media star Sky Brown and spelling bee whiz kid Akash Vukoti round out the cast. I'm not sure if all of this makes me feel old, or just sad.
Inside Weekend TV: Ovation's opulent historical drama Versailles (Saturday, 10/9c) returns for a third and final season, with King Louis XIV (George Blagden) welcoming a defeated royal relative into the palace, which may not be the wisest move… Crazy Rich Asians scene-stealer Awkwafina is guest host of NBC's Saturday Night Live (Saturday, 11:30/10:30c), with Travis Scott a first-time musical guest… The producers of Showtime's The Fourth Estate return with their fly-on-the-wall-of-The New York Times approach for the documentary short The Family Business: Trump and Taxes (Sunday, 8:30/7:30c). The film crew follows investigative reporters David Barstow, Russell Buettner and Susanne Craig as they piece together the extraordinary report, published earlier this week, about how the president amassed his fortune, taken from financial records and family tax returns… Emmy winner Gerald McRaney is back on CBS's NCIS: Los Angeles (Sunday, 9/8c) as retired Navy Admiral Hollace Kilbride, taking charge of the team while Hetty (Linda Hunt) and Mosely (Nia Long) face repercussions from their rogue Mexico mission… The 10th season of ABC's Shark Tank (Sunday, 10/9c) opens with a new guest Shark on the panel: Jamie Siminoff, entrepreneur and inventor of the Ring security device. (He once pitched the product, then called DoorBot, to the Sharks in 2013, and turned down an offer from Kevin O'Leary — but has obviously fared well since.)