'Madam Secretary' Star Téa Leoni on the Premiere's Big Guest Stars & Elizabeth's Presidential Run
Madam Secretary's upcoming fifth season will no doubt be powerful… and not just because the premiere features three former secretaries of state: Hillary Clinton, Colin Powell, and Madeleine Albright.
The CBS series is tackling intense, timely issues such as the #MeToo movement, foreign policy, and ethics within the White House.
See Also
So much so, she seeks counsel from former secretaries Madeleine Albright, Colin Powell and Hillary Clinton.
TV Insider sat down to series' star Téa Leoni on the Madam Secretary set to chat about what's next for Elizabeth after she told husband Henry (Tim Daly) she wants to run for president. She also breaks down what it was like to share a scene with three political powerhouses.
"I just hope they'll come back," she joked about being a good host to the politicians. Her character calls them up for advice about what to do in the midst of a crisis and they appear in her office with plenty of wisdom to share.
"Right after the meeting, I address the country about a scary event we have in our first episode," she teased.
Check out the rest of the interview below:
What is Elizabeth's mindset going into this season?
Téa Leoni: I've never really done series before. I'm used to film where you go in knowing how it ends. You map your performance that way. Here, I do that episodically. Going into the fifth season, I'm having a great change coming to the character. It's not that I'm struggling with it but I'm working on it.
I think being secretary of state is an entirely different job, not many real people have attempted to go from secretary of state to the presidency. Elizabeth wasn't someone who was even courting the job of secretary of state.
Henry takes a job closer to the president. Does that change their dynamic as a couple?
I think it's better. It'll be good to have him around. It'll also be fun for people to see in a healthy relationship you can disagree about things. This is an incredible position to exist in the White House — an ethical advisor — don't know where that came from.
See Also
It's not the first time a TV show has recruited political guest stars.
What would happen if her family doesn't want her to run?
Truly, I think she and Henry have to kind of marriage and relationship that Henry would recognize this would be for the country or the greater good. And I don't believe Elizabeth would run if she didn't think she could do it.
But her kids might have the most conflict. I, personally, haven't spent as much time with my kids because I'm doing a job that can take up 15 hours a day. Then, I'm playing a character who's also working tremendous hours, who also has children. Elizabeth and I share some similar concerns about that.
Has this been a period of reflection for you?
Yes, certainly. This is an incredible endeavor to do a show because the character has to grow and things have to happen to push the story forward. That's also true in my life right now as I just watched my daughter go off to college this year. Things change. I'm hoping that Elizabeth is better at transitions than I am.
What was it like to film with Secretary Hillary Clinton, Secretary Madeleine K. Albright, and General Colin Powell?
They may not be professional actors but they're interested in people and learning new things. They're first and foremost interested in this country and that has not ebbed in however many years since each of them has left that office.
We got a little giddy [on set]. They genuinely like each other and genuinely respect what each has done in that role. I think the secretaries enjoy watching the role celebrated, not just for how difficult it is, but also for how much grace and commitment it requires.
Any good behind-the-scenes moments between them?
They know each other every well. They have respect for one another and they like to tease each other, rib each other a little bit. They also like to chat about restaurants or hotels in different countries they visited. I was like, 'This is surreal.'
Did the secretaries talk about if they had ever asked a former secretary for help, as your character does?
This was part of the genesis of this whole thing. When I spoke to Sec. Albright between the pilot and the series getting picked up, she was very generous with her time and told me about what she wanted to see come out of the show.
One of things she explained to me was that when you become Secretary of State, the prior secretaries will reach out if you don't already know each other and they'll offer their services. And I said, 'Oh you mean within a [political] party,' and she said, 'Oh no. Not at all. It's all of us.' I find that fascinating and heartening.
How smart [is it] to consult with people who have dealt, collectively and individually, likely with every county? [It's] smart to be able to learn from each other.
Madam Secretary, Season 5 Premiere, Sunday, October 7, 10/9c, CBS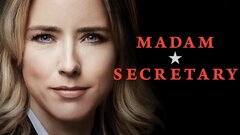 Powered by