'The Walking Dead' Premiere Sneak Peek: Can the Group Save Ezekiel?! (VIDEO)
As the anticipation over The Walking Dead's highly-anticipated Season 9 return builds, we're offering an early glimpse at the premiere!
In a clip from the first episode, Rick (Andrew Lincoln), Michonne (Danai Gurira), Daryl (Norman Reedus), and the rest of the gang appear to be scavenging for supplies — perhaps to create the idealistic civilization Carl (Chandler Riggs) envisioned — but the crumbling structure is working against them.
Danger lurks around every corner as the group attempts to traverse a crumbling glass surface while carrying a heavy structure. Working with Carol (Melissa McBride), Ezekiel (Khary Payton) tries to navigate the treacherous path, but the surface is no match for the weight of what they're carrying.
When Rick notices the glass cracking, he yells for the pair to run, but Ezekiel isn't able to make it across before he crashes through with the problematic walkers below, ready to pounce. Daryl and Rick work to save their friend by pulling at the rope around Ezekiel's body and shooting arrows at walkers who might bite. But is it enough?
Check out the exclusive clip below:
The Walking Dead, Season 9 Premiere, 9/8c, AMC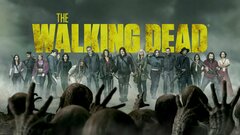 Powered by