'Madam Secretary's Season 5 Premiere Tests Elizabeth Like Never Before
It wasn't just pillow talk when Secretary of State Elizabeth McCord (Téa Leoni) told husband Henry (Tim Daly) she was considering a presidential run.
In the Madam Secretary's fifth season, Elizabeth begins quietly testing the waters and could soon share her news with current POTUS Conrad Dalton (Keith Carradine). But her priority, says executive producer Barbara Hall, "is her secretary of state job and keeping together the idea of [global] denuclearization."
See Also
Executive producers Barbara Hall and Lori McCreary give the scoop on the suspenseful and enlightening episode.
So don't expect an official announcement right away, since that would mean stepping down. (Still, Hall has already signed a possible primary opponent: Will Chase's wealthy and charming Sen. Owen Peterson.)
"The secretary will have to be aware of how everything she does now will affect her politically," Hall adds. "Every issue that comes up in the State Department will have a question related to her possible campaign. That's not easy for someone whose life has been about diplomacy, not politics."
Elizabeth's electability will be tested more quickly than she expected after an unprecedented attack on the White House. As the feds look for the culprits, she "plans a speech that will reassure people and pull the country together," Hall says.
The communiqué is so pivotal for both patriotic and personal reasons that Elizabeth seeks counsel from former secretaries Madeleine Albright, Colin Powell and Hillary Clinton, all playing themselves. Given that the scene "is fairly relevant to our times," Hall says, "it was quite interesting to hear them weigh in."
Madam Secretary, Season 5 Premiere, Sunday, Oct. 7, 10/9c, CBS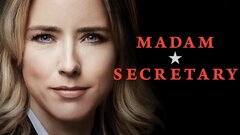 Powered by