NBC's 'Chicago' Crossover Event — Who Lived & Who Died?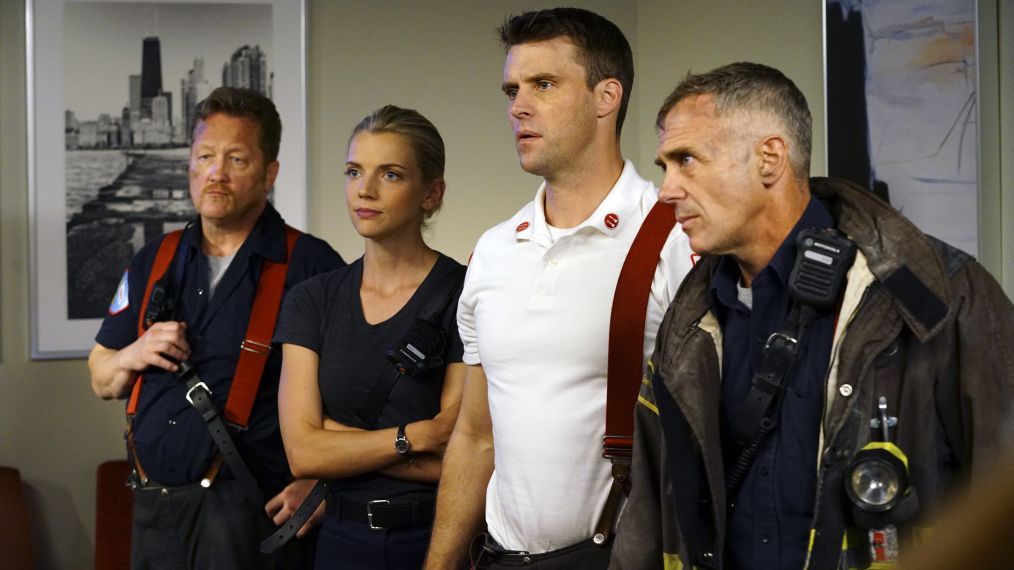 [Warning: The below contains spoilers from the Chicago Fire/Med/PD crossover episode.]

Is your heart still racing after Wednesday night's epic three-hour Chicago Fire, Chicago Med and Chicago P.D. crossover event?
Fans watched in the first hour as the Windy City's firefighters answered the call about a fire at a high-rise apartment complex. Hundreds were trapped inside as Severide (Taylor Kinney), Casey (Jesse Spencer), Boden (Eamonn Walker), and the rest of their squad raced up the building directing scared civilians and battled the flames.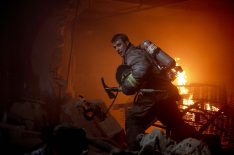 See Also
The executive producer explains why the shocking decision was made, and what's next.
After people were rescued they were bused off Gaffney Chicago Medical Center for life-saving treatment. And finally, it was discovered this fire wasn't accidental. The PD team tracked the arsonist responsible for the horrific day and brought him to justice.
Lets break down the biggest moments:
Kelly Severide & Stella Kidd
While fighting the fire, Stella ran out of oxygen and collapsed in the midst of the chaos. Meanwhile, Kelly was scaling down the side of the building to rescue a young boy.
Fast forward to the hospital and Stella's (Miranda Rae Mayo) in critical condition. The doctors cant stop the bleeding in her lung and decide the best course of action is to remove the whole thing. Obviously, one cannot continue fighting fires with one lung.
See Also
Andrew Schneider and Diane Frolov also talk Maggie's storyline, the One Chicago crossover, and a possible Colin Donnell return.
Severide is beside himself because Dr. Choi (Brian Tee) and Dr. Rhodes (Colin Donnell) won't let him legally make any decisions because he's not her family. Cue April.
She brings the whole fire squad to the hospital to fight for Stella to keep her lung. Dr. Rhoades is torn but decides to try a more risky surgery to save her lung and is ultimately successful.
Halstead Brothers
This was a tough episode for Jay (Jesse Lee Soffer) and Dr. Will (Nick Gehlfuss).
Their father was trapped in the fire and took a turn for the worse in the hospital after tests revealed he was brain-dead. The brothers struggled to decide whether they should pull the plug.
Jay was even more upset because he had just had a fight with his dad and revealed he always felt inadequate in his father's eyes compared to his doctor bro. His feelings were eased when he discovered his father kept photos and newspaper articles about his police career.
RIP Papa Halstead.
Otis and Dr. Charles
The firefighter was shaken after discovering the burned bodies of a mother and baby he was trying to help out of the building.
At the hospital, he collapses from what he thinks is low blood sugar and smoke inhalation but Dr. Charles (Oliver Platt) knows better and suggests Otis (Yuriy Sardarov) is dealing with some PTSD. Let's not forget last season, Otis almost died after being shot and took months the relearn how to walk.
Otis refused to believe his condition because guess what, you can't be a firefighter if you have PTSD. He claimed his feelings were just part of the job.
Dr. Charles urged his friend to get therapy and ended up discharging him. We doubt that's the last of Otis' mental health condition.
Life Without Gabby
Casey and Brett (Kara Killmer) got a little more closure about Gabby leaving for a full-time job in Puerto Rico.
Brett was feeling guilty about having an argument with Gabby before she left and asked Casey why he couldn't stop Gabby from going. "I couldn't have stopped her. Neither could you," he said (which is pretty spot on knowing his wife's personality).
He then hands Brett a special not from Gabby — it's a picture of Gabby and Brett with the note, "Love you, partner, and always will."
See Also
It was #RIPDawsey in the Season 7 premiere on Wednesday night.
The Newbie
Brett and her new paramedic partner Emily Foster (Annie Ilonzeh) bond during this episode and it's finally revealed what happened in her past.
She was a surgical resident at a prestigious hospital but cheated on her Boards exams and got kicked out… but only did it because it was a really tough time in her personal life. So, we got a few answers mixed in with some more mystery.
Chicago Fire, Wednesdays, 8/7c, NBC
Chicago Med, Wednesdays, 9/8c, NBC
Chicago P.D., Wednesdays, 10/9c, NBC