Roush Review: 'A Million Little Things' That Make a Grown Man Cry
There's no crying in hockey—unless you're the bros who wear their broken hearts on their jersey sleeves in A Million Little Things, ABC's tear-stained and soapily addictive answer to This Is Us.
You see, there's an empty seat in the row of season tickets held by four buds who bonded 10 years ago, when stuck by chance in an elevator, over their love for the Boston Bruins. Their collective world is rocked when, in the first minutes of the series, their main man Jon (Ron Livingston), the glue who brought and kept them together, steps off a ledge and inexplicably snuffs out his mortal candle. "Life is short, just be happy" are among his last words caught on video on one of their recent nights out.
What would cause "perfect Jon" to do such a thing? And what does that say about the rest of his thirtysomething tribe, an angst-friendly group that features depression, cancer and adultery among its multiple plot points. "We were more honest with each other before we were friends," bemoans Gary (Psych's James Roday), the single-guy wisecracker of the group, getting serious in the wake of this sudden tragedy.
So the mystery and shadow of Jon's death, not unlike the reveal of papa Jack's passing in the pilot of This Is Us, serves as wake-up call and catalyst for the reckonings to follow. Secrets are revealed, relationships are reexamined, and life somehow goes on in classic feel bad/feel good fashion.
This saga of sensitive men and the women who endure them might be unbearable if not for brisk plotting that wastes little time setting up tricky situations and then, by the third episode, exploding them for maximum impact. A Million Little Things is right in ABC's wheelhouse, as juicy as a Shonda Rhimes melodrama but with the plaintive agonies of a Herskovitz-Zwick (thirtysomething, Once and Again) family affair.
The casting is spotless, starting with Livingston's enigmatic aura as the guy who is "everything to everyone." Roday is a wry delight, Grimm's David Giuntoli a revelation as an unhappily married Mr. Dad and Weeds' Romany Malco moving as a commercial director who's about had it with "hiding behind a fake smile." The women who support, challenge, needle and mourn them are just as appealing: Stephanie Szostak, Christina Moses, Allison Miller and Hawaii Five-0's Grace Park, whose workaholic spouse has more shadings than you'd imagine from first glance.
But that's the way shows like this work, when they work. Resist if you must. The rest of us will be reaching for the extra-duty Kleenex.
A Million Little Things, Series Premiere, Wednesday, Sept. 26, 10/9c, ABC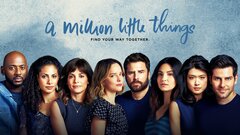 Powered by