'Lethal Weapon' Premiere: Murtaugh's Family Worries About Him Losing Riggs (VIDEO)
We already know that with Seann William Scott joining the cast, Lethal Weapon is changing somewhat for the third season but, as has already been revealed, the character of Martin Riggs (Clayne Crawford, who was dismissed after alleged misbehavior on set) will see his journey wrapped up in the season premiere.
Besides Scott's introduction as former CIA agent-turned-LA-police-office Wesley Cole, Detective Roger Murtaugh (Damon Wayans) has to finish mourning his former partner and best friend. But how long is too long to grieve?
See Also
''When you see them together, you're thinking, 'I hope it goes in that direction,''' he says.
In the below exclusive sneak peek at tonight's premiere, that's the big question for Roger's kids, Riana (Chandler Kinney) and RJ (Dante Brown), as they question mom Trish (Keesha Sharp) about their dad's emotional state. While Trish is hopeful that Roger will bounce back, it might be time for some tough love.
Watch the full clip below:
Lethal Weapon, Tuesdays, 9/8c, Fox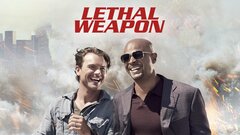 Powered by