'Lethal Weapon' Star Damon Wayans Details a 'Lighter' & 'Fun' Season 3
It's been a rough go for Fox's Lethal Weapon since co-lead Clayne Crawford was fired for reported bad behavior on set. But since Seann William Scott was cast in his place, it appears to be smooth sailing, according to the cast and showrunners.
Season 2 wrapped up with Crawford's character Riggs being shot, which was the actor's last scene in the series, save for possible flashbacks. During the Television Critics Association summer press tour, star Damon Wayans is finally speaking out about what filming Season 3 has been like.
See Also
Plus, find out when new series like 'The Cool Kids' and 'Rel' will make their debuts.
"We're only the first [episode] in but it's definitely a lot lighter in tone and we're having fun — on and off set," the actor told The Hollywood Reporter.
Things were tense between Wayans and Crawford, whose alleged behavior forced Wayans to file a complaint on set. Ultimately, it sounds like Scott is a perfect fit, as he's set to play Wesley Cole, named for Rene Russo's Lorna Cole in Lethal Weapon 3.
See Also
Creator Matt Miller gives his first interview since Crawford's firing, teasing Season 3.
Showrunner Matt Miller told TV Insider that Cole "did a lot of time overseas in a more covert CIA capacity. Circumstances happen abroad that are very tragic for him and end up sending him back to Los Angeles for reasons that we'll come to learn in that first episode."
Miller also said that Scott will bring that "wild card" element to the show that Crawford's character Riggs had in previous seasons.
As for the star's exit from the show, Wayans had nothing but kind words to offer during the tour."I wish him the best," Wayans said. "Onward and upward for everybody."
See Also
Biggest question remains: will he have a mustache?
As for the vibe on-set,"It's a lot looser. Nobody is overthinking; we're just doing and we're having fun trying to get home," Wayans detailed.
During the Fox TCA presentation, Fox TV Group boss Gary Newman revealed, "We're incredibly excited about being in business with Seann. We pursued him before and never successfully landed him and Matt is a fantastic showrunner and came up with a great character."
Of course, some fans have been saddened over Crawford's firing, but it sounds as though many are pleased with the Season 3 production so far.
Lethal Weapon, Season 3 Premiere, Tuesday, Sept. 25, 9/8c, Fox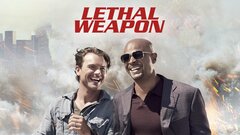 Powered by