'Bull' Boss Glenn Gordon Caron Breaks Down [Spoiler]'s Death & What's Next
[Warning: The below contains MAJOR spoilers for the Season 3 premiere of Bull, "The Ground Beneath Their Feet."]
Well, that's one way to kill off a character.
In Bull's Season 3 premiere, the team's tech expert, Cable (Annabelle Attanasio), drowned after her rental car plunged into a river thanks to a bridge collapse in New Jersey. Police divers found her body under 30 feet of water. (Attanasio announced in July that she was leaving the show to direct a feature film.) It was tragic, shocking, and not the best thing for Bull (Michael Weatherly) to hear after his own mental breakdown and near-fatal heart attack in last season's finale.
See Also
The psychologist is back to work after surviving a heart attack.
We talked to showrunner Glenn Gordon Caron about Cable's demise and Bull's future.
How many methods of writing off Cable did you kick around before settling on this one?
Glenn Gordon Caron: None. This was the only one. I thought it was an opportunity to do something different and a little more lifelike. For example, we let [the realization that she was dead] trickle out slowly through the episode, which is the way it happens with work friends. When a work friend perishes, sometimes we don't hear about it right away. It also doesn't take the spotlight off of Bull's heart attack.
At the start of the premiere, Bull returns to work three months off the booze and looking very healthy. Is what happens to Cable going to change that?
The results her death has on all of the characters will play out in the margins of subsequent episodes for a while. One of the things I like about the premiere is that it's isn't neat. It doesn't answer every the questions it raises. Mainly, it suggests that some of these questions [about death, codependency, recovery, etc.] are complicated. They'll take time to answer.
Jill Hennessy will begin a multi-episode arc as one of Bull's clients soon. Her case allegedly rattles him more emotionally than anything before. What could be more emotionally rattling than what just happened?
I can't tell you a lot because, frankly, it doesn't manifest itself until Episode 4.
Well, should we worry about Bull?
Not in the sense that he's still going to be on CBS on Monday nights this year. I don't think you need to worry about him in the short term.
See Also
Plus, a sneak peek at Nathan Fillion's new series, 'The Rookie.'
Bull (or really Michael Weatherly) lost a lot of weight over the summer. I know it's because the character is supposed to be taking better care of himself. He looks good, but I miss the old, messy Bull.
Weight is difficult to wrestle with. It's the kind of problem that's hard to lick in the long term. So you knows how he's going to end up looking. But I will certainly pass on to Michael Weatherly that you like him both ways!
Bull, Mondays, 10/9c, CBS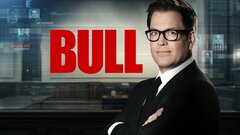 Bull
where to stream
Powered by