'Blindspot' EP Teases What's to Come From Jane's 'Remi' Persona
See Jane run…a long con.
Season 4 of NBC's action-drama Blindspot gets off to a heart-stopping start, as FBI consultant Jane (Jaimie Alexander) and her government colleagues embark on a dangerous mission in Tokyo to retrieve intel left behind by her slain brother Roman (Luke Mitchell). Little do the Feds know, however, that Jane is not who she says she is anymore.
Last season ended with a big twist: After learning that the drug used to wipe her memory — back when she was found naked and covered in mysterious tattoos at the beginning of Season 1 — had been poisoning her, Jane reverted to her former malevolent persona, Remi, whose mission was to destroy the FBI.
See Also
Fans will be swept away by the episode that was shot on-location.
"Turns out, when you have your memory erased, there are side effects," executive producer Martin Gero says.
Now, Remi is still posing as Jane to carry out her original directive of dividing and decimating the people to whom she's grown closest. That includes her husband, special agent Kurt Weller (Sullivan Stapleton), who is recovering from a gunshot wound. "Weller is sleeping with the enemy," teases Gero. But he'll quickly realize something's not quite right.
Once the Tokyo mission is behind her, Remi begins to formulate a plan that drives the early episodes. "What she needs are some allies," Gero says, noting that Remi's adoptive mother, terrorist group leader Shepherd (Michelle Hurd), is still locked up in a "black site" prison. "Freeing her would be high on Remi's list, certainly."
Blindspot, Season 4 Premiere, Friday, October 12, 8/7c, NBC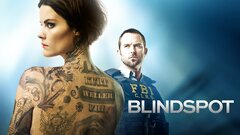 Powered by